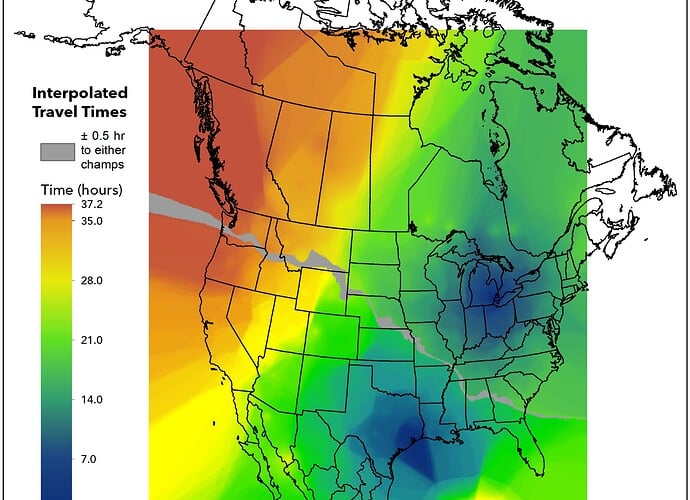 This is an interpolation of travel times for teams based off numbers pulled form OpenStreetMap. All teams with a road connection to the champs were considered (yes, including Canada and Mexico). The resulting image shows travel times only and does NOT TAKE INTO CONSIDERATION TEAM DISTRIBUTION. So before you get all up in arms against FIRST hatin' on the west coast consider the mean center of the teams in this analysis:
https://i.imgur.com/GlKrHiu.jpg
… And that's why we had one Worlds in St. Louis from 2011 - 2016.
It is interesting to note that path of "it doesn't matter which champs you attend" runs through ~4 major metropolitan areas (Portland OR, Kansas City MO, Memphis TN, Atlanta GA). Furthermore, this is approximately the path the 2017 eclipse took across the US.
Is there a distribution of #2champs that makes more sense based off road travel times alone? I will be looking into that in the weeks to come.
Keep in mind I am only looking at a single variable here: road travel times. There is also hotel cost, food, flight cost (which varies wildly between airports), venue suitability/cost, etc.
I made it colorful to grab you eye… hey look, it worked ;).