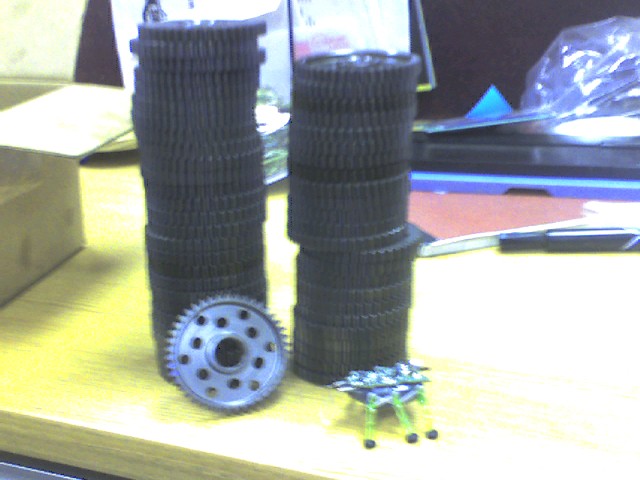 we got some parts in today for one of our preseason activities. Enjoy.
Where did you get those gears? I've been looking for a decent manufacturer of gears/gear stock… McMaster just seems to be a bit too pricey. Did you have them made or are they cots?
im thinkin these are for a robot that crawls like the hexbug pictured
Curious, have you done anything with the shifting gearbox (from a dewalt product?) you had at IRI yet?
Seconded. Also, are they aluminum or steel?
Those are definitely steel.
So here is the deal with the gears. One of the machines responsible for secondary operations on these messed up a batch of gears, probably around 200. Since they were rejected from being able to be placed in product the team was able to snag them.
The plan is that these will become part of our team trophies given out to sponsors, teams, and others. We are going half painted black and the others yellow. I will be sure to post one when we are finished, maybe if your team is going to St. Louis you might even get one.
As for how they are made, these gears are cut individually from blanks in our gear machining center which uses Gleason gear machines which cut gears for many Delta, DeWALT, and Porter-Cable products.
As for gearstock I have never gotten any, traditionally I get my gears from mcmaster or martin.
Black and yellow sounds awesome to me.

For anyone looking for gearstock, be aware that SDP gearstock is very cheap quality in our experience (254/968).
It's very soft steel, and we have gotten more than one length where the teeth were actually not straight.
Try to find out where AndyMark gets their material. They are 4140, are good quality, and I'm almost certain they are cut from gearstock.