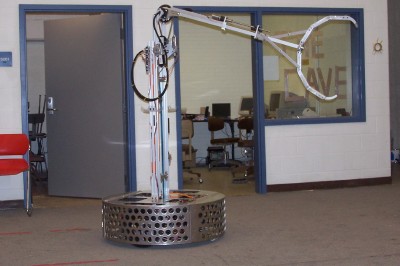 This is our latest prior to shipping.
This year the robots are looking very interesting… team 820's holomonic with 3 omnis… and now a circular robot. this is very cool.
now for questions…
… what type of drive train did you use?
thats a very interesting idea, the robots will bounce of ya very easily. nice bot hope to see it compete!
looks intense!!! how many tetras do you think it can hold???
Whoa!!:ahh: Now that is a truly awesomely beastly robot. The chasis in itself already looks awesome. That gripper piece is quite awesome. How high can the arm reach?