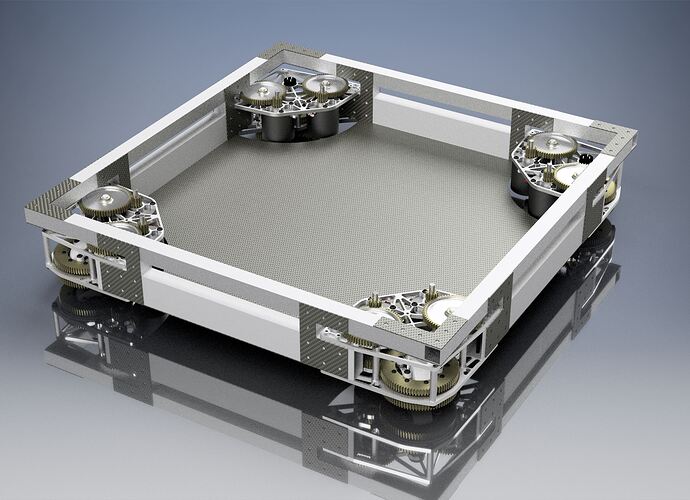 Example chassis render. It weighs roughly 27lbs. Dimensions are 27.9" squared. Modules can be pulled out through the corners.
5 points to the first team to do this IRL…
This is incredible! Well done!!
This is on the same level as 192's gearboxes… well done
This is pure beauty. Using the module itself as the corner gussets to the frame not only makes this incredibly modular but also really easy to replace and repair in the heat of battle. It also brings your wheel pretty much as far towards the outer edge of the bot as possible (in this type of differential swerve design).
I also love the little bracket that attaches to the encoder. Feedback doesn't get too much more direct than that.
When I first read about the NEO motors, I immediately started to think about how ridiculous an 8x NEO differential swerve was going to be. The efficiency, power, integrated encoders, and form factor are perfect for the application.
This layout takes advantage of all of these benefits- super slick.
I also really like the ability to remove modules through the corners. Awesome design!
Beat me to it! Can you possibly provide more information about how all the pivoting parts of your wheel module are connected? That's been my biggest challenge with differential swerve designs.
Any chance I could get the CAD for this? It looks amazing!
Thanks everyone for the kind words.
Only 5 points?! I would give 1,000

In all seriousness. This is the type of thing that Mean Machine might think about testing in the off season if we have students interested in building it. Either way, hopefully someone will build a working diff swerve chassis in the coming year or two.
Yeah, I wasn't sure if I would really like this layout until I put it in the context of a complete chassis, but I think it worked out in the end.
I also love the little bracket that attaches to the encoder. Feedback doesn't get too much more direct than that.
I made that part overly complicated, but I had fun CADing it!
One thing I think could be cool about this setup, is that the hub has a flat printed into it that matches the encoder shaft, and the encoder has an indexing pin on its housing, so this module could be assembled into a calibrated state with no need for a physical or software offset to be tuned.
I thought the same thing when I saw them. I look forward to seeing how they perform under pressure this season.
This is definitely the tricky part, and probably my least favorite aspect of this design. Right now I have four small ball bearings that run in a groove that is half in the bevel gear and half in the VEX gear that are bolted together. Those bearings are bolted to the central plate of the wheel module that holds a 4" ID thin section bearing.
Here you go.