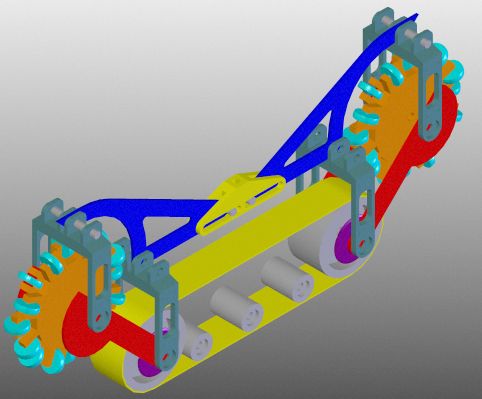 This design is outdated for my purposes as I've already moved onto its second revision, so I thought I'd post a screenshot here for everyone to see. It's nothing that hasn't been done before – but I thought it might spark some conversation or better, ideas.
Of course, this is a two-speed, shift-on-the-fly solution that doesn't require a shifting transmission. I do realize that a shifting transmission is probably an easier way of achieving the same result if you're only looking for two-speed performance, though.
As with anything, this sort of design has its advantages and disadvantages.
No pictured are the chains and sprockets and the mechanism that engages the yellow block in the center – typically a pneumatic piston. Also missing is the mounting solution for attaching this to a chassis (I turned the outer plating off for visibility's sake.)
This achieves two speeds by utilizing two wheel diameters. The inner, smaller wheels are a low-speed tank drive. The outer omniwheels are, of course, larger in diameter and geared up slightly to produce high speeds. The high-speed wheels are lowered via the four-bar linkages on each end.
This was made in Solidworks. If anyone would like a copy of the assembly and its parts, I'll see what I can do about getting them to you.
Questions, comments, concerns and criticisms are appreciated.