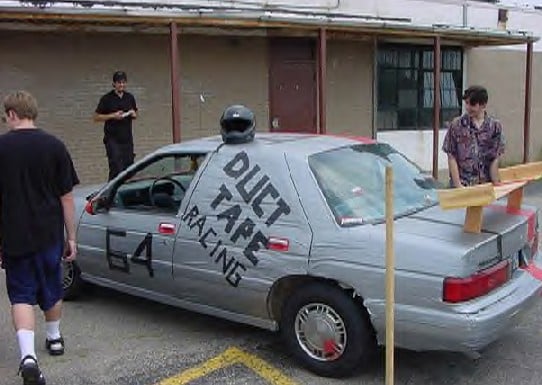 Here's proof that you CAN use duct tape for ANYTHING! ha! (www.anti-rice.com)
That is truely amazing. ponders I may do that to my car…

Nice bot… wait that's way over the weight limit, and it's using tape!!! Hehe, very nice. I love duct tape!!


:: mouth is agape ::
Does it go under the bar?
lol is it possible to get that all off?
*Originally posted by Stud Man Dan *
**
Does it go under the bar?

**
It doesn't go under the bar, it goes THROUGH the bar

How much does one of these things cost?
What's it's .25 mile time?
Hmm, all that tape must weigh alot, but fear not…that cardboard riceracer wing clearly compensates for the extra weight from the tape, all it needs now is a "type R" sticker, and it'll beat mustangs!
THe rotating light does not appear to be clearly visible, either.
I bet for the price of all that tape you could have gotten an actual paint job.
PS. You forgot to do the wheels.

hmm, if you ever decide to take off the duct tape you might need some money for a new paintjob…might being the key word
but i give it 2 thumbs up
*Originally posted by DanLevin247 *
**Hmm, all that tape must weigh alot, but fear not…that cardboard riceracer wing clearly compensates for the extra weight from the tape, all it needs now is a "type R" sticker, and it'll beat mustangs! **
Even with a Type R sticker it can't beat Mustangs, atleast none in my family… we're all (3) in mid 13s… I run a 1/4 13.6 and a 1/8 in 8.7… so yea…
I think that is be bset thing I haev ever seen! do that to a truck and I'm ready for prom! Congrats to those that did that!
two thumbs up Good to see you have found something to do while the robot is now shipped! lol
ricer rule number one: fin adds 100hp
ricer rule number two: "type R" sticker adds 200hp
Ricer rule number three: for each additional racing sticker you add to ur car add 5 hp
haha


list of aftermarket parts:
crossdrilled brake lines
piston return springs
rear bumper fluid
insulated spark plugs
brake light coolent
radiator insulator blanket
"O" pipe exaust
exaust HEPA filters