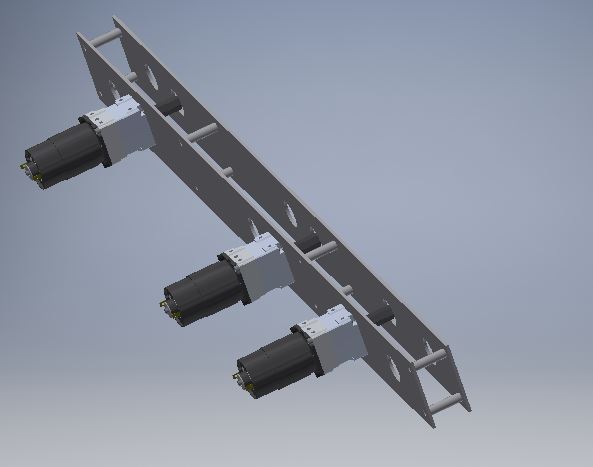 Here's something I've been thinking about for a little while.
After seeing several teams use 775 pros for their drivetrain this year with varying degrees of success I threw this together.
This is still missing all the hex bearings and sprockets, live axles, and collars.
I drew this up with the intent of making it easy and quick to manufacture for most people, my personal team has a plasma machine that could easily cut the plates in a few minutes.
it can also be made pretty easy on a mill or drill press if you wanted.
specs:
1/8th plate.
cantilevered "west coast drive".
3 775 pros in 15:1 versa-planetaries.
sprocket reduction from 16t-18t between vp's and live axles.
setup for 4" wheels, can be modified for 6"
the standoffs are 1.4" right now but the intent is to support the end of the vp shaft in a bearing, as well as support the live wheel axles in two places. so that spacing will have to be adjusted slightly once i get all the sprockets and stuff in the drawings.
I'm pretty confident the vp's can take the load like this.
If you want the inventor drawing just pm me.