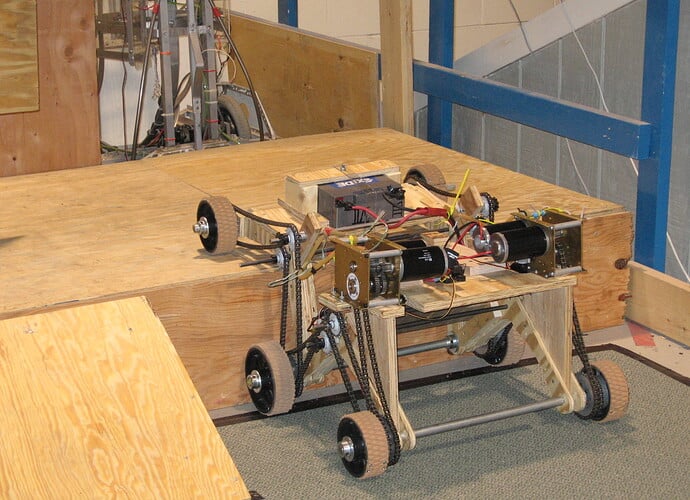 As the next game rolls around, all of you will get to build more robots (woohoo!). I was looking through my old FRC pictures today, and I found a bunch of 1276's old prototyping pictures. Obviously not much use to us anymore, but I figured other people might be interested in them.
This is a chassis we built between the 2006 and 2007 season to climb a very large stair. We figured that since 2006 had such an open field, 2007 would likely have a large central feature (we were right!). We also really wanted to climb stairs, as we had elected to stay on the floor in our rookie year (2004). Due to all the bumper rule intricacies, a chassis like this may never again be FRC legal, but who knows.
I think it portrays an important point though, prototyping shouldn't be expensive, or even particularly well done. Quick and dirty works. In our experiences, if we couldn't get it to work as a quick and dirty prototype, it wouldn't be reliable on the field.
I don't think we bought anything to build this, it was all stuff we had lying around after a few years of robot building. This obviously never made it to the field. However, from the pictures I have on my laptop, I put together a small album of things we prototyped, and then the final mechanisms that resulted from them.
If anyone is interested, I've got some more stuff at home and could probably put together a short white paper.
And since I've had troubles with CD Media and links before, here's the plaintext you can just copy into your browser:
http://picasaweb.google.com/etotheix/Prototyping?feat=directlink