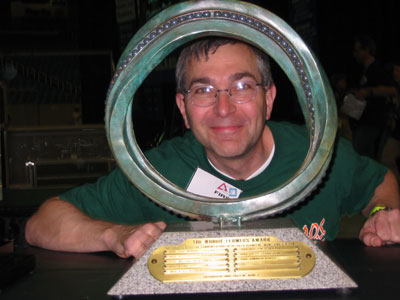 Boy that is one cool bearing. Congrats Mr. Kelso on winning The Big Bearing. It's an award long overdue!!
-Tom
I hung out with that trophy last year

and boy is that thing heavy…
Congrats again, this is a well deserved honor!
Congrats. bows down We're not worthy…

As a friend, and as a role model of mine I can't think of anyone more deserving of this honor than Mr. Kelso. Thank you Dave for all you have done for me and for FIRST. Congratulations!
-Andy Grady
Thank you Mr. Kelso for being the man you are, and the man every guy wants to be. You deserve this award more than anyone…but people that know you didn't need an award to truely understand what you've accomplished. Congradulations to David Kelso, my friend, my mentor, my role model.
I just met you once or twice at the Championships this year but also wanted to say congratulations on the award. Enjoy it