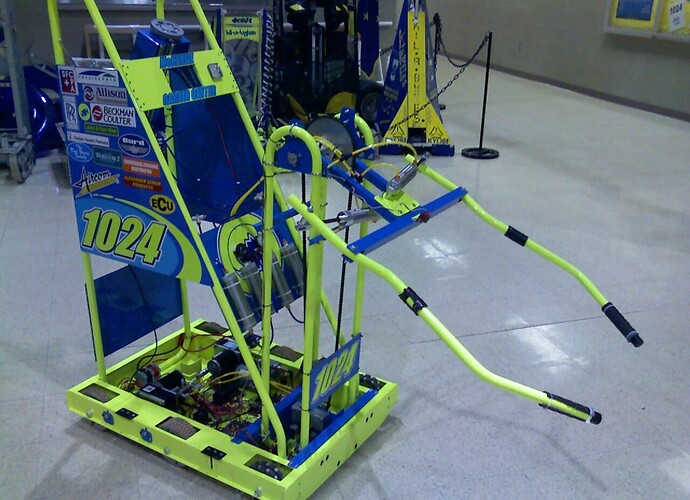 Here's our finished 2008 robot, without it's bumpers. It can hit 10ft/sec during real run conditions (not a give-it-as-long-as-it-needs type test), and can complete a ball pickup cycle (auto ball grab, raise to holding position) in about 1 second with a good battery (this process is automatic). The gripper can also be used to push the ball over the line (herd) as well as knock the ball off the overpass.
Hurdling can be done at robot speeds from about 0.5ft/sec and up. The ball can be placed by simply driving the robot to about 2ft in front of the overpass, stopping, then firing.
Autonomous mode, for now, racks up points by running around the track. Hopefully we'll also have the option to auto-knock the ball off in autonomous as a secondary strategy. As it sits, we've found the IR very unreliable, so though it is an available option it's currently not a part of any autonomous schemes. Also, an automatic gear shifting routine is in the works to increase the robot's rate of acceleration.
Needless to say… our team has had quite enough of bending pipe for quite a while. :]