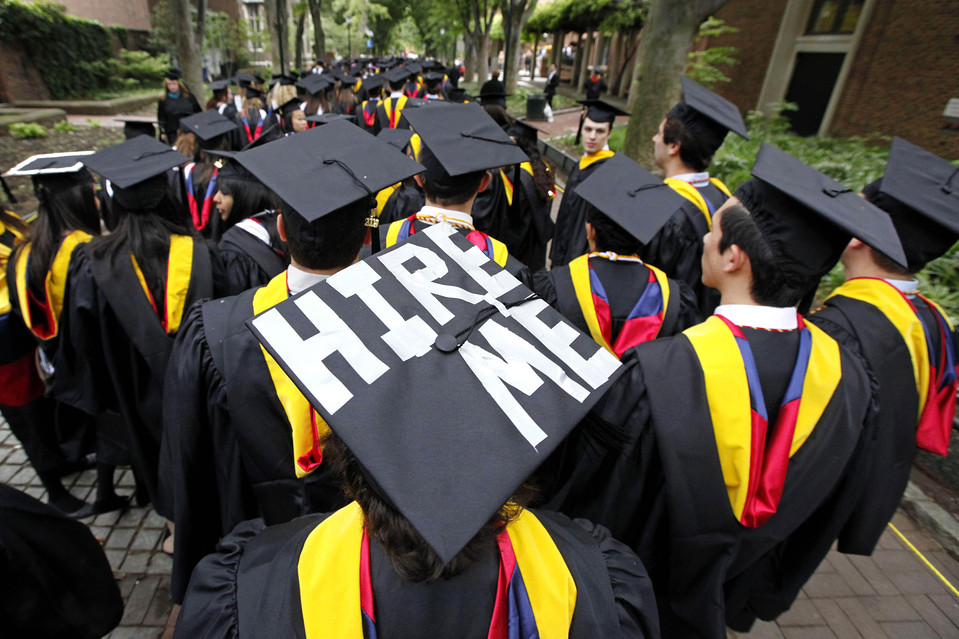 FIRST alumnus Nate Weiner graduates from college and this AP photo makes it into newspapers and blogs around the world.
ahh the state of the economy now. Any link to the newspapers or blogs that have this article on the net?
Shake Nate's hand for me, this is funny.
Any idea what field he is going into? Maybe the FIRST community can give him a hand.
Disclaimer: Nate is my oldest son and the reason I got involved in FIRST.
He spent 4 years on a FRC team.
His experience in FIRST helped him get into UPENN.
He majored in Mech. Engineering and minored in Engineering Entrepreneurship.
He's made hundreds of friends along the way, already following the advice of Eric Schmidt, CEO of Google, who was his commencement speaker. http://www.detnews.com/article/20090519/BIZ04/905190347/1020/Google-CEO-urges-grads---Turn-off-your-computer-
But nothing could have prepared him to get woken up yesterday with a call that he was on the front page of the NYT and page 2 of the Wall Street Journal. It's been fun watching the 2 AP photos spread around the world!
How interesting!
I saw this on page A-2 of the Seattle Times yesterday (5/19/2009). Small black-and-white photo and a short article.
Thanks for sharing, Jenny! Best of luck to Nate in his job search.
Haha this is going to be a classic picture of our time. Totally represents what a lot of people are going through right now.
A generation.
I agree, this helps showcase what this generation is faced with because of methods, systems, and practices of the generation(s) before it. It also holds the promise of opportunity for change as these graduates move into their careers, fields of interest, or pursue further degrees.
<Joke>
Thank You Jane and the rest of your generation.


</Joke>
<Preach>
All joking aside, what we do today has an effect on every future generation, if you decide it would be a great idea to destroy all the rain forests today realize who has to pay for that? It isn't just us, it is our children, their children and every future generation. Because of some bad business practices by the people in charge I have countless friends who have been laid off work, friends who are barely in their 20's. I have a close friend who is in the same boat as Nate here. Short term gains lead to long term losses. So many times I have heard the mantra "Measure twice, cut once." We need to start applying that to every aspect of our life, "Evaluate twice, execute once"
</Preach>
Decisions are filled with weight that will tilt the scales in each generation, measuring the values placed by the society on what type of lifestyles and culture we have or dream of having. Mentors who 'get' FIRST and continue to support and strengthen the programs, add weight. Adults and students who understand the vision of Dean Kamen and the importance of the educational wisdom of Woodie Flowers, weigh in and continue to. Teams like 1712, Dawgma, who are developing courses to teach/and share their understanding of ethical leadership, continue to add important weight.
That is why the messages in the speeches that were offered so eloquently in Atlanta are so valuable and pressing in importance. Because they carry weight that will add to society's scales, measuring the qualities of value and integrity.
And in other cases…their 30's, and 40's, and 50's, and…
[tangent]
I feel for all who are currently in the job search mode in this market. If you think it's hard for a recent college grad to pursue a job, something they'd be doing anyway, try scrambling when you've given 20+ years of your life to a single organization and show up to work Monday to suddenly find your position has been eviscerated.
[/tangent]
Let's return to the topic of the pic.
I believe these topics are closely related…
I was referring to talking solely about the college graduate's challenge to find employment in the current economy.
I just wanted to quickly state that the youngins aren't the only ones competing for work. If you would like to keep the expanded discussion scope, ok then.

Jenny, you are very generous in your wisdom. Travis is right, too.
Although this photo highlights the clever use of what I think is white duct tape (or is it contact paper?), it also highlights achievement, hard work, and the effort and dedication that graduation represents for these graduates and their supporters. Forgive me for failing to offer congratulations to your son, Nate, his peers, and you and your family, Jenny. You guys rock.
Jane
No one would dare say we are the only ones, truth is, we are the lucky ones. Most of us do not have houses, do not have families to support. We don't have the massive expenses that people in their 30's and 40's have, we can also rely on mom and dad for some help. In essence this is just another lesson we are learning, and this is the best time for us to learn it. (Obviously Id rather NOT learn this lesson but if it must be I may as well learn something from it no?)
It is standard grey duct tape, which, as it turns out, reflects well in a crowd. Apparently obtaining special tape would have taken too much effort late at night, but 3 years of frat life and 4 years of engineering studies made it easy to locate a roll of duct tape.
We were able to pick him out of thousands looking down on the field from the stands. So was the AP photographer.
Yeah I feel his pain.
5 years of college at a Big 10 university, starting a robotics team my freshman year, running it for 2 years and mentoring for 5, getting my degree in accounting with backgrounds in communications and Spanish (including translating multiple times in Atlanta) and I'm still looking for a job weeks after graduation.
Ms Jenny, wish him luck for me!
Then there's those of us who will be entering college next year and many of us are deterred from some schools due to worries of paying for college. I am confident in financial aid though and having a brother who's a financial analyst helps out too with that type of stuff. :rolleyes: Honestly though, my parents have taught me to risk a lot for the best education possible, and if that means me having to pay off student loans for many more years than generations past, then that's fine by me, this is something many students these days are not willing to accept and for that, I am a bit saddened.
Andrew is right though, we should consider ourselves lucky for not having liabilities and dependents at the moment…like we are for our parents.
BTW Beth, my brother feels your pain. Although he has a job related to his diploma's major (finance) its mind numbing to think that he may not find a job in finance or accounting for a while…
I tend to think that blaming a "generation" ascribes cause without correlation. I doubt any one generation (whatever that may be) has any more or fewer scoundrels in it than any other.
Blake
PS: I like the photo.
Nate's head just was on ABC Nightly News as the backdrop for a story on …
College Grads Seeking Work