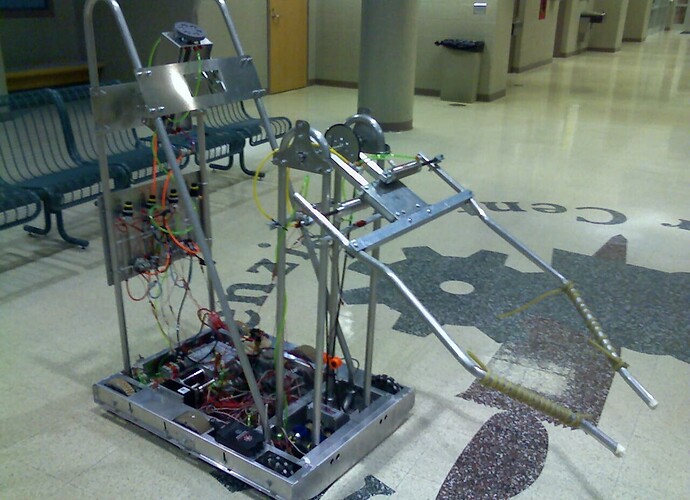 Another view of our first prototype robot, again, I know it's messy, it was around 1AM at the time, and neatness was not a priority.
The robot is fully functional and hurdles like a dream. After the ball has been gripped, a pickup and hurdle cycle takes 1.25 seconds, and the robot can go as slow as 0.8ft/sec and still make a hurdle. The standard auto-hurdle speed (triggered by joystick during teleoperated) is 8ft/sec, and works like a charm.
All heavy objects in the robot (battery, compressor, arm transmission) are located on the left side of the robot as low as possible, and all superstructure components are as light as possible (yet amazingly strong thanks to our new pipe bender we got this summer!). The robot can tip to 50degrees before it's center of gravity travels outside of the robot's footprint. Also, sufficient traction is generated by the left side of the robot to drive while takeing a four foot radius turn at 10ft/sec.
And… the super awesome special feature's mounting locations can (maybe, might not be good enough picture) be seen on the right side of the robot (side facing left in the picture)…