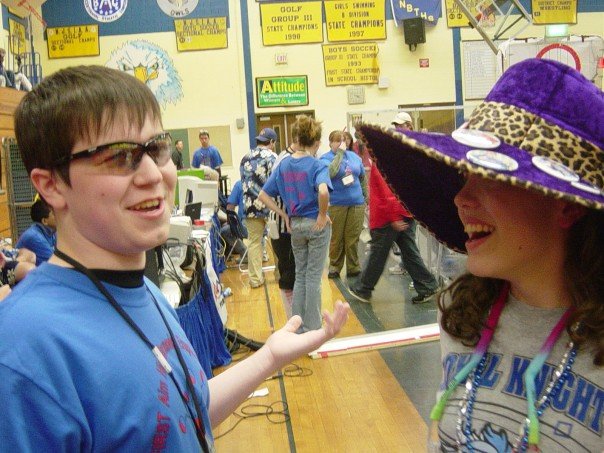 Libby and Sean at Brunswick Eruption
The best part about this picture is you can see the super cool Emcee, Head Ref, and Announcer in the background.
tom i have really bad pics of you, they are all blurry… but ive given you enough credit for being" UNNNBAAAALLLLIIIEEEEVVVAABBLLEEE"
UNNNNNBAAALIIIIIEEEEVVVVAAAABLLLLEEEEE!!!
=] BEST EVER.
haha roho you got to it first.
[p.s. i totally started to type FIRST instead. whoops. do [i]that one a lot.]
Kim never stole Sr. Charles' "Booya" line, so I'm going to have to drop the "super cool" tag from her.

Kim, Corey, and Tom did an awesome job at Brunswick Eruption, and as far as i am concerned are more than welcome to come back and do it again next year
Appearantly, I had a huge vein popping out of the side of my head during eliminations. It was more stressful then anticipated. When we had that one tie in eliminations, 3 things went wrong directly thereafter…that was not fun. But seemed that all worked well. We ran fairly on time as Cokeley said.
Actually, I was going to do the "booyah!" thing, but I wasnt sure how many people would get the reference. I did quote Andy Grady by saying "ringing the chains" and Blair and a few other announcers. Thanks Big Mike for giving me the opportunity to announce
lol I did what I could
And yes Corey, that was quite the stress vain lol
Since it has been brought to my attention that i forgot to do this before,
AWWWWWWWWWWWWWWWWWWWWWWWWWWWWWWWW<takes breath>WWWWWWWWWWWWWW
Haven't we already learned that its dangerous to let a Kamen and a Lavery be in the same room. How many confusing riddles and long speeches were written this time?
no long speeches, just one continuous 'aww' from big mike.
i'm waiting for THAT pic to hit CD…

Now where's Woodie's son/daughter/neice/nephew when you need him/her?
Oddly enough i believe he was once a mentor on 75, im not quite sure what has happened to him since then…

AWWWWWWWWWWW…
So did anyone overhear what they were saying about next year's game?
Oh, oh, I know, the picture must be the hint… This year will be a miniature version of an FRC game!