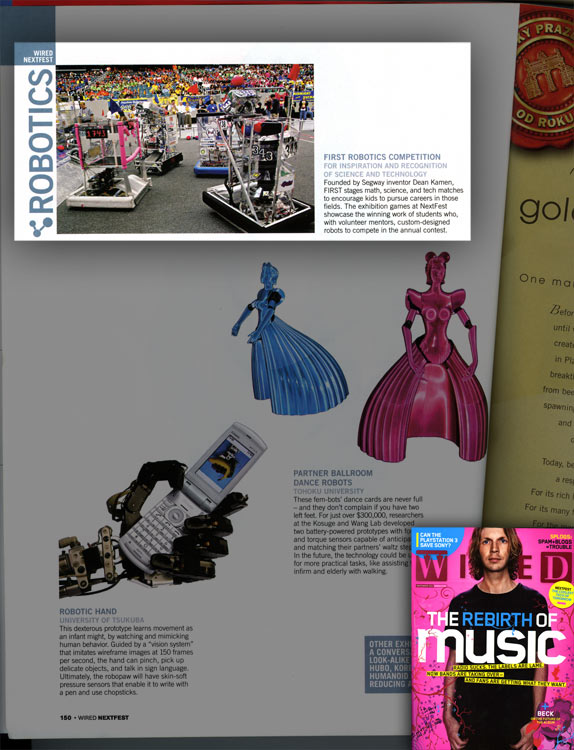 Full size scan -
http://www.marsbot.org/files/firstnextfest.jpg
Might not be much, but every bit of publicity for FIRST helps!
That is pretty cool. FIRST has been in alot of things lately, which is a good thing because it shows what this program is all about. It also draws more attention to the program so people can come and see how things are done and hopefully try to get them involved.

I'm a middle-aged geek and I like Wired. I used to have a boss, a year or two younger than me, who was a Harvard MBA mergers-and-acquisitions type, and he always carried Wired onto long flights. And of course Wired is still popular with the present generation of technology fans. Wired reaches a broad audience.
Putting FIRST in Wired may give someone, somewhere a new idea, or may attract some new participants to FIRST. That's good, either way.
Woohoo!! Go Archimedes.

Seriously though, NEXTFEST is going to be awesome, and anyone in the area thats not on a participating team, should definitely either volunteer, or drop by and look around. It should be a real nice exhibition.
One of my friends saw this in print before I found it here, and just about flipped out. How exciting to see your own robot in a magazine! I'm saving mine forever.

The picture is kind of small, but the robots from left to right are 1743, 138, 1138, and 343.
I see our banner in the back too…lol, its cool to see FIRST getting so much "out there!"