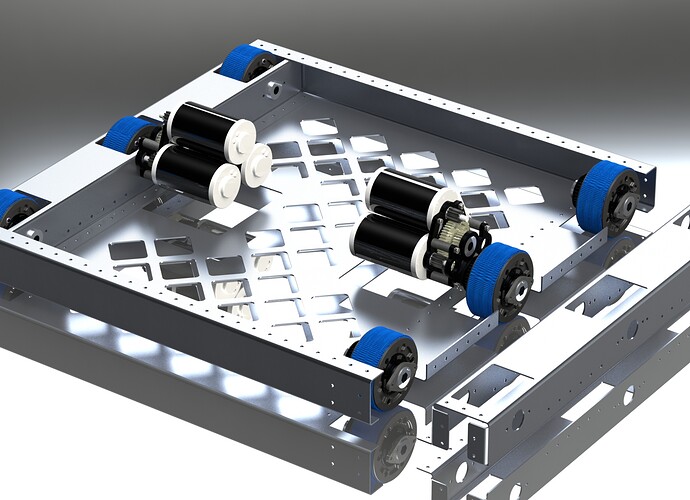 As was suggested in the thread about my plywood 8WD, I designed a sheet metal drivetrain. There's nothing crazy unconventional in this one; sheet metal design was enough of a challenge.
-3-piece .080" 5052 aluminum chassis, inspired by 971/ 488/ 3847's designs
-6x 4" 1.5" wide VEXpro traction wheels with blue nitrile tread. Center wheel is dropped 3/16"
-Outer wheels driven by 9mm belts on 30t pulleys. Belts are exact center-center distance.
-Custom 3-CIM gearbox with 6.82:1 reduction for an adjusted top speed of 11 ft/s. Gearbox plates are .25" aluminum; I might redesign them to use thinner metal.
-All components are accessible from the bottom.
-The part around the outside bearings is a spacer to keep the bearing from sticking outside the frame perimeter. In this render, it is 3d-printed plastic, but I realized that it would make more sense to use two stacked .080" aluminum plates, since it will bear significant load.
-Total weight of 36.4 lbs. The sheet metal chassis weighs 8.3 lbs.