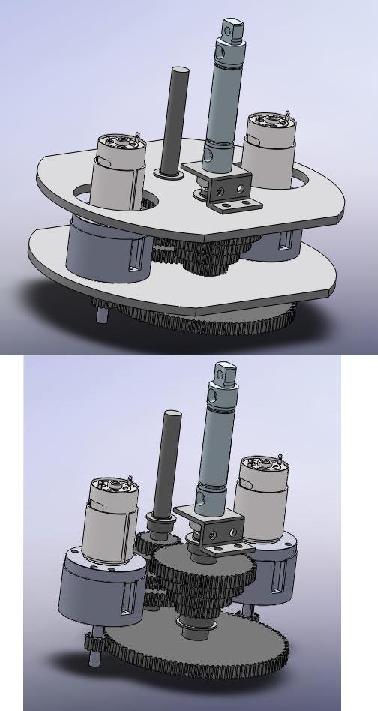 This transmission concept is meant for a swerve drive, or other system that relies on one power plant, so to speak.
It is powered by two fisher price motors attached to AndyMark planetary transmissions, which have CIM output shafts and bolt hole patterns, so you could substitute two CIMs in there.
The lowest gear should overcome the static friction between roughtop tread and carpet, meaning the wheels would "burn out" instead of stalling under max power. The next three gears are for normal driving.
The shifting method is ball-lock, which you may have to look up for yourself. As the plunger moves down the shifting shaft interior, it pushes ball bearings into grooves in the gears.
The transmission shifts with a single pneumatic, which uses two solenoids to control exhaust, allowing the piston to move to any position while exerting full force on the way (and still acting like a spring in case of jams).
I posted this to get some feedback; I welcome any questions or comments. Thanks in advance!