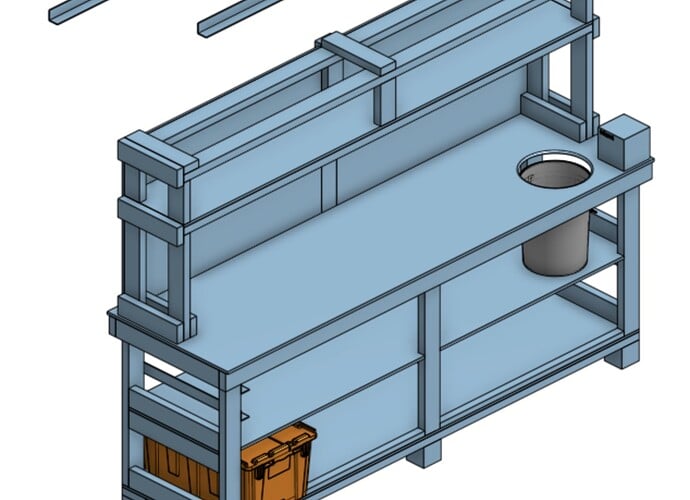 A still-in-progress CAD render of a new pit structure the Pandamaniacs have been working on this fall. One, because we needed to learn Onshape. Two, because it took us over a blankety-blank hour to unpack ourselves at Smoky Mountains last year and being a regional team we need all that pit time!
Inspiration (and the tote model, actually) came from 148's new sheetmetal pit structures. We don't have that god-tier sheetmetal resource at our disposal, so we're making it out of dimensional lumber and plywood.
It's very much a work in progress (one of the angle pieces in the top literally appeared while I was taking the screenshot), but the gist:
8' long. If we like this one, we have thought about a second 6' one.
Room for 4-5 totes on the bottom
Second level will sport rails to fit our preferred Stanley organizers. (Which we've discovered are starting to get discontinued, but we have too many right now to change course.)
Workbench surface, complete with a vise and a hole for a 5-gallon wastebasket (bucket). The bucket will also provide storage for anything on the back pegboard during transport.
Upper storage hutch for a few smaller organizers and Sterilite shoeboxes for bulkier items.
Six beefy swivel casters from CasterCity.com, a supplier recommended by Marshall from the Zebracorns. THOR is a common off-season stop for us, so we wanted to consult with someone experienced in the realm of foam tiles.
You can look at the most current version here.