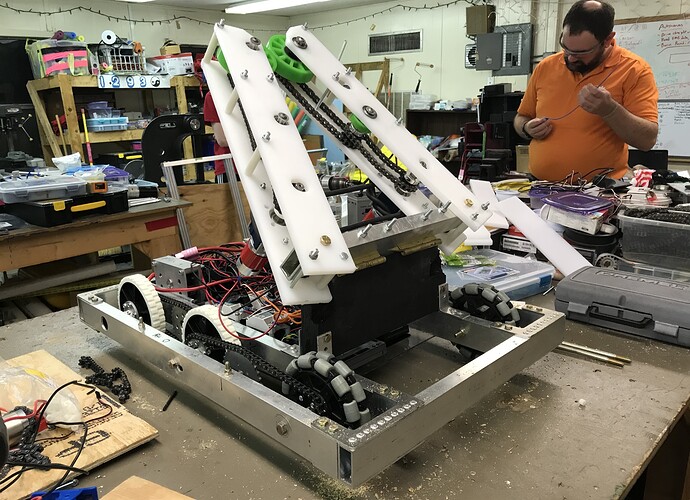 15 years, and we're still on a mission from Bob.
Some highlights:
Sprung intake using green AndyMark compliant wheels, a custom twin-plate structure made of Sam's Club cutting boards (hey, they're half the price of McMaster's plastic…) and twin RedLine motors through 20:1 57 Sport gearboxes.
Hinge is mounted to a natural composite material, custom pocketed for clearance. Withholding allowance should provide means to lift for the switch.
Custom tube frame, 22" wide so everyone gets on the platform.
4x Mini CIM drivetrain (because when you're 22" wide, CIMs don't fit) through AndyMark Toughbox gearboxes. Top speed: About 14.6 feet/second.
Onboard switch bank for left/right starting position and delay setting so we can yield to partners with somewhere to be. Programmers have our NavX MXP on last year's drivetrain to continue development of additional options.
One-piece bumper system for additional insurance when we play with some of you crazy bumper-grabbing people. We mounted them high for you crazy ramp people.
We had plans for wings that ended up not happening, so we're developing a strap winch and single-joint arm that fits in our withholding allowance. The winch, which is basically done, is an AndyMark DeCIMate through a Toughbox Micro, and with us around 60 pounds as bagged that'll do just fine. Shoulder is based around another RedLine through a 20:1 57 Sport, so that we can always have the right spare gearboxes.
It's not quite as ambitious as it was at the start, but we think it'll be a valuable alliance partner. And man, it's good to be home.
See you at Smoky Mountains.