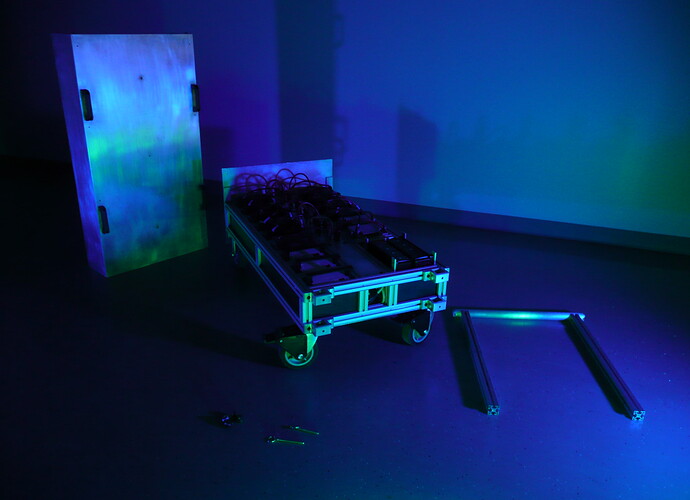 FRC Team 2949 PWNAGE would like to present its new battery cart. Designed in the summer/fall of 2011, we just finished building it right at the end of January. It currently holds 12 batteries and has 2 3-Bank Chargers (sold by Andymark) and 3 1 Bank chargers. When the team raises more money, we will be switching out the 3 1-Bank chargers for 2 more 3-Bank Chargers. The Framing is made out of 80/20, and the sides are made out of ABS Plastic Sheets, also sold by Andymark. The lid, base plate, and back plate are all sheet metal. The wheels are spare wheels we had from a Lista Workbench. There are 2 Fixed wheels and 2 caster wheels. All of the wheels are Colson 6" wheels. Some features:
-The charger clips are fixed on a plate in the middle that allows for plugging in batteries easily.
-The middle section behind the plate allows room for the wiring, making it easier to organize and also allows room for a power-strip. An opening in the top allows for the power-strip cord to come out.
-The lid is held on with 4 thumbscrews. When the lid is taken off and the cart stood upright, the lid can be attached the same way on the back, covering the wheels. This allows for a smaller footprint in the pits.
-The handle sits in slots at the end of the cart. It is held in the slots with 2 pins. It can be taken out and stored inside the lid when the cart is upright.
-Decals (Team number, name, and logo) will be added soon.
We will be using this at all future events, including KC Regional and the Midwest Regional.
Any Comments or questions are greatly appreciated!
Good luck this season!