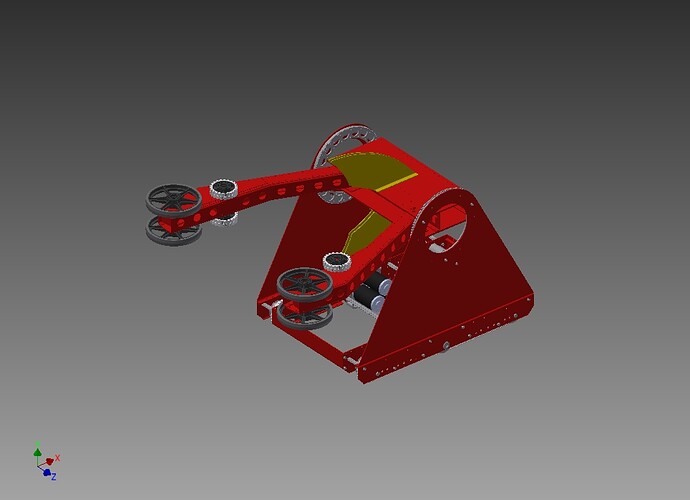 We're getting close with our CAD. For a more in-depth look at our design, check out the blog at
http://frc1529.wordpress.com/
Looks great Taylor, I could see this being a great addition to any alliance. Very simple and effective ball relaying and shooting. What's the estimated final weight?
Looking forward to checking it out at Queen City. See ya week five!
Will this robot just be focused on double sided passing, or will the larger outer wheels be used for shooting?
The larger wheels are both intakes and shooters. They are powered by CIM motors through AndyMark LJ Bevel Boxes.
Many thanks to teams 868 and 2383 for publicly posting their results for wheeled shooters - we were initially hesitant about using a wheeled shooter for this game, but their published work showed wheeled shooters were viable options that could be used with minimial ball spin.
Burke - we're looking at about 100 lbs.
wow that looks impressive mike can't wait to see you guys at bmr
Looks great Mike!
I've been following along with the blog. I'm so happy you've gotten some more support this year for your team.
#FriendsWithRobots
Does this have the variable shooting option?
Since the shooter/pickup wheels are run via CIM motors through talons, we can adjust the speed at which they spin. We can also adjust the angle of the ejection 220 degrees.
Thanks for your questions! We plan to have our finished parts in next week - weather cooperating. It'll be fun to see this thing in true 3-D.
I think you guys have nailed it this year, even if you can't shoot in the high goal you will be playing on Saturday afternoon prob as a picker or first pick.