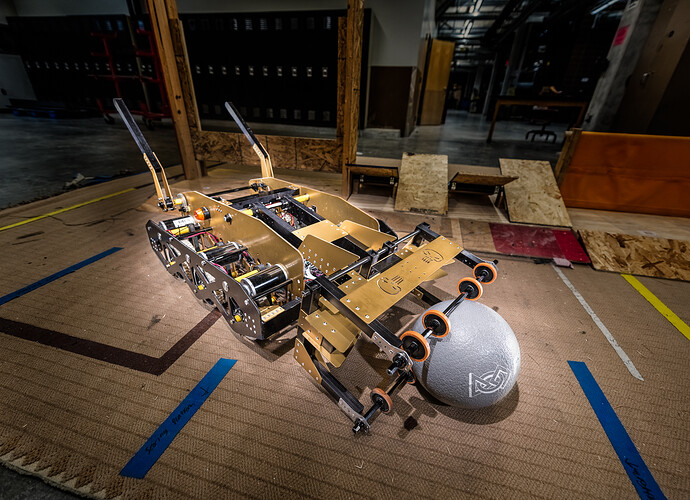 Team 1675, The Ultimate Protection Squad, is proud to present our 2016 robot for FIRST Stronghold: Punisher. Punisher will be competing at the St. Louis and Wisconsin Regionals, and hopefully will be making an appearance at the Championships.
Quick Stats:
24"W x 30"L x 14"T
6 wheel independent CIM drive with 9:1 ratio on 6" AM Rubber Treaded Wheels (option to boost to 12:1 if needed)
Low Bar capable
Crosses A, B, and D defenses (though right now we struggle with the moat) and can drive through C defenses
Roller Claw for ball collection and scoring in low goal, weight shift for crossing, and activation of Cheval de Frise (we call them the "French Ramps" (200:1 775Pro on shoulder, 10:1 BAG on rollers)
Lifter arms for wedging under the Portcullis (100:1 BAG)
Can park on the batter for Challenge points
Intended to be a breach and ball shuttle/ low goal score robot
We stuck to the "do one thing and do it well" mantra this year. At only 88 pounds, we can add some things if really needed. I am proud to say that all custom parts were made in-house with a combination of CNC mill and plasma cutter. Reveal Video: https://youtu.be/O2Egcvxw3gI
See you at the competition!
*The roller claw as depicted is slightly unfinished…a few pieces to be added/anodized (all part of withholding allowance) and a few more Banebots wheels to be added.