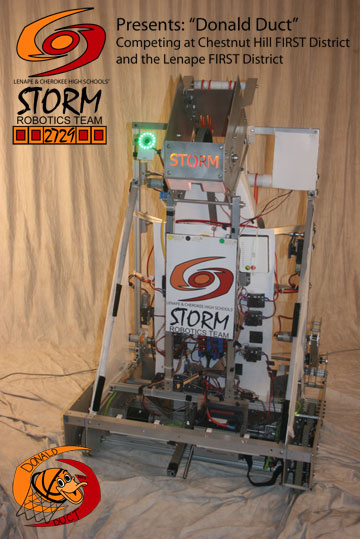 First there was "Stormy", then "Brave Beckham", and last year "Crimson Claw". For the 2012 season Storm Robotics presents "Donald Duct".
Check out some video here; http://youtu.be/n-rK4V7GIcc
A few robot features:
Wide base, 6 wheeled tank drive.
6" plaction wheels are direct driven by a AM Super Shifter.
Ball control takes place at 3 independent stages; intake roller, holding belts, and shooter delivery belts.
Intake roller can pick up 2 balls at once.
-Bridge tipper is located the ball intake roller side of the robot.
Shooter is mounted on the opposite side of the intake roller.
The shooter is a set at a fixed angle but has the ability to adjust compression manually.
The shooter is capable of hitting shots from the edge of the bridge on our offensive side of the court.
Follow some of our design decisions on twitter @frc2729.
Looking forward to seeing our friends at Chestnut Hill and Lenape MAR District events, and hopefully the MAR Championship. Good luck and have fun this season!