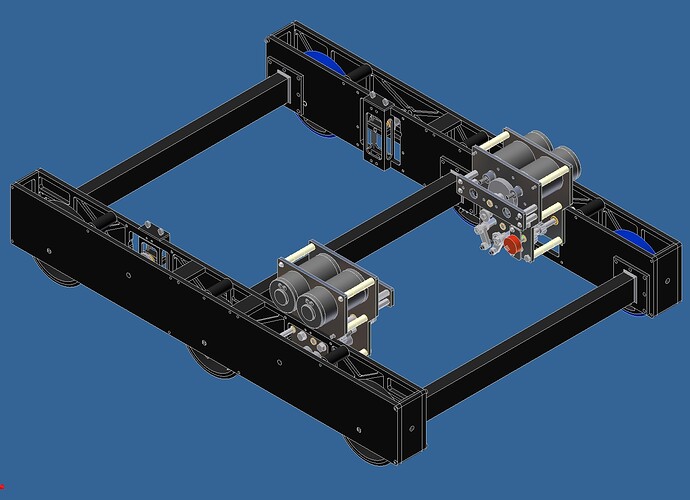 Well, there's a lot to say about this base.
We designed a base with 687 last Fall, which worked well through the season. But, all season we kept encountering, and remembering things that we would like to change to make it better; easier manufacturing, easier weldaments (we have one really stressed/busy welder at our sponsor), more robust, more gearbox options, shifting (330 and 968 outran and outpushed us in the SD elims), etc…
Since I'll be away at college, I wanted to hand off something that could be applied to almost any game. So here are the features;
Wheels/Tracks;
-Currently has 6" customs. It can take 4-6" customs as is, or change a few dimensions and it can take all the way to 12" (more of a found feature than a designed one). We can also use the IFI wheels and almost all of the AndyMark Wheels.
-We can also run a mecanum drive. Each chassis rail is a mirror, so we could put two single speed gearboxes on each (our design, or the AM) and run mecanums in the corners.
-If we increase the width of the spacers, we can even run 2" brecoflex belts.
I feel, we've pretty much got wheels covered.
Gearboxes/Transmission;
Since I don't know what the game is, I left them plenty of options.
-Our own custom 4-motor single speed (Adapted from a 3 motor last year).
-Our 4-speed 4-motor Team 33 shifter (As pictured)
-Our 2-speed 4-motor Team 33 shifter.
-The AM single Speed.
-the AM super shifter.
-the banebots 56mm (w/ adapter plate… I hope to god they don't use them).
We know 4-motors is extreme overkill, but It didn't make it harder to design or machine at all. I want to leave them the option, so that if they are underweight, with motors left, they can just beef up the drive.
The reason we are running the 4-speed now is because it is cheaper to make than to buy the Super Shifters, is only slightly harder to make than our 2-speed, and will provide more options to use it as a test platform.
The Frame is much easier to weld than last year, and could be made very quickly. We can easily detach the modules from the frame to work on them as well.
We will probably be attaching any above structures for manipulators w/ angle and a bolt like 60/254/968/1138 have done (I know other have done it, that's just off the top of my head).
Any comments/questions?