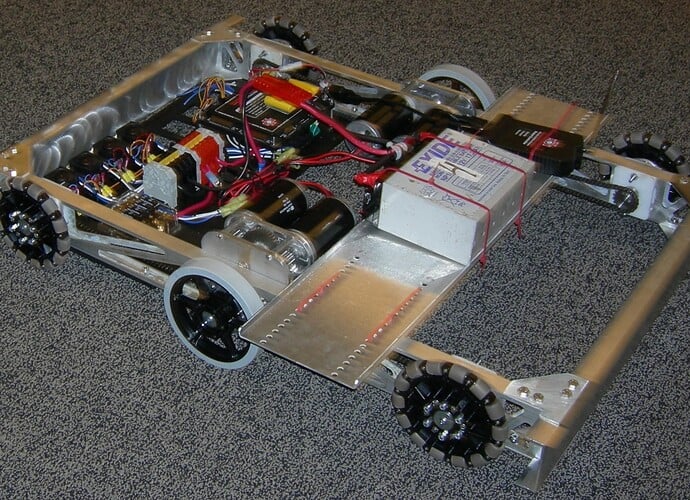 A week later than we'd hoped, we finished the drivetrain for our 2007 robot. We have video of it driving that we'll likely put up on YouTube or similar soon.
It's a flat 6WD with custom, single-speed gearboxes geared at 17.5:1. Its speed sits somewhere around 6 ft/s – slower than what we've run for the past few seasons, but purposefully so. The wheels are 6" diameter Kitbot wheels on the center with AndyMark omniwheels at all four corners. Traction is great and it turns on a dime.
Overall weight as shown – minus the battery and the plate it sits upon – is 41 lbs. and change. The electrical board is 7 lbs., each gearbox is also 7 lbs., and the wheels, chain, axles, sprockets and frame make up the difference. The front and back rails haven't been lightened yet as we're awaiting a finalized design for other components and want to ensure we can securely mount them to the frame. Lightening those parts will reduce the weight another 2 or 3 lbs.