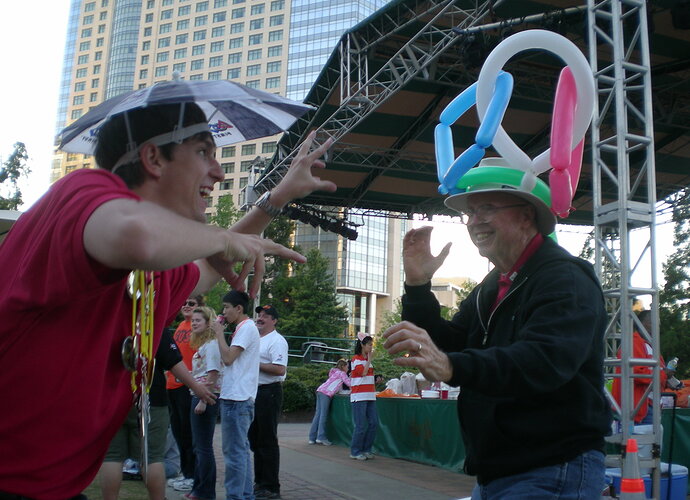 Championship 2009- Barry Bonzack and John Tal Webb battle it out at the 1902 dinner in Centennial Park.
J T Webb was celebrating his 75th Birthday. He is a highly respected mechanical engineer who helped put rockets into space from mercury to the shuttle and he has been a judge for FIRST one way or another for the last 12 years…and he is still a goofball. (I can say that…he is my dad)
This is awesome. Barry, this will probably be your facebook group's picture, when Jenn and Andrea actually make it. And don't worry, it'll come.

I'm not entirely sure who ended up winning this contest, but he sure is a cool guy to talk to.
It is with great sorrow I share with everyone the passing of John Tal Webb last Wednesday morning. He loved FIRST, inspired many, and served as a judge at the World Championship and Orlando Regional for over 10 years.
I am completely in awe of his career and life. He worked on every space program from Mercury to Shuttle, and is a large part of United States history; and mankind's journey to the moon.
John Tal Webb is survived through his wife, 3 children, 5 grandchildren, 1 great grandchild, and everyone else he has inspired.
Mr. Webb had an unconditional love for young people. He absolutely believed in them and what they are capable of. He always encouraged them to be the best that they could be and to hold fast to their dreams.
I had the great pleasure of having a couple of conversations with Mr. Webb and both times, I was filled with inspiration and a new commitment to hold fast to my dreams.

Peace be with you, Mr. Webb, and to your amazing family.
Jane