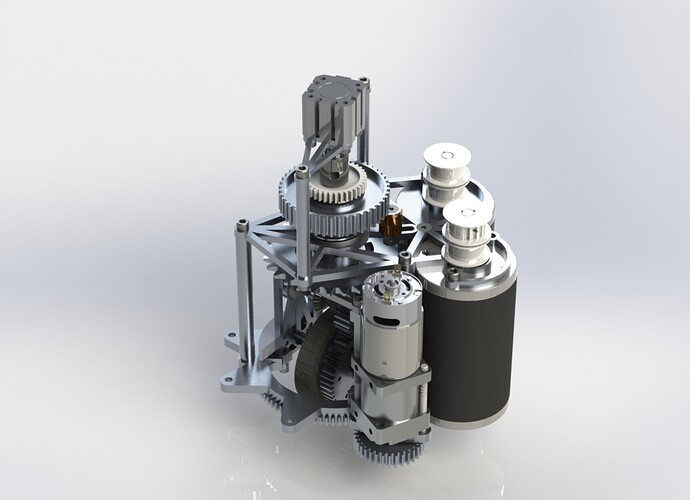 The huge shaft length underneath the top plate but above the module was bothering me, so I added a rudimentary PTO.
As shown with all hardware, this weighs 8.51lbs. A full chassis with this swerve pod weighs 39.82lbs with all hardware (minus 12 aluminum rivetscand ~2lbs of chain).
Ratios are 3.23:1 and 6.45:1 for high and low gear respectively, resulting in free speeds of 19.7fps and 9.8fps with a 2.75" wheel. The PTO powers a 26 tooth #35 sprocket when in low gear. This means that the efficiency is slightly lowered in low gear due to the chain of the PTO moving around. In order to engage the PTO fully, there needs to be a shifting gearbox elsewhere in the chassis to engage whatever device it is meant to power. Again, there will be losses because the low gear is active as well.
Alternatively, this can be used with a three-position cylinder, but I chickened out to cull some weight. The tradeoff here is that weight will need to be added elsewhere for a shifter. It really depends on the game; for lifting endgames like 2013, this would work because the wheels aren't touching the ground when the PTO is engaged. Plus, due to the characteristics of a swerve drive (and the sheer power of this chassis), low gear would only be used in counter-defense or offensive scenarios, and you would be moving slowly.
A Bimba 3-position cylinder would be used if needed.
Based heavily of off Bryce2471's work. The only difference is that the encoders are in different places, and this shifting shaft has to be fully custom. At this point I'm not even worrying about manuacturability.

I'll get the CAD out as soon as I fix up the shifting gears a little bit (adding in ball grooves, etc) and probably add in mounting options for a 3-position cylinder.
I'm really going to have to make a manually machinable version of the single-speed one.
EDIT: I forgot to mention: I can't figure out where to put the dive encoder without adding more plates and spacers. I was thinking of using a hall effect sensor with magnets embedded into the large pulley.
ANOTHER EDIT: CAD is available here: https://drive.google.com/file/d/0BzU34PeNVT0QWTBxaVRWR0U1Yms/view?usp=sharing
There might be a couple errors, but for the most part it should be fine.