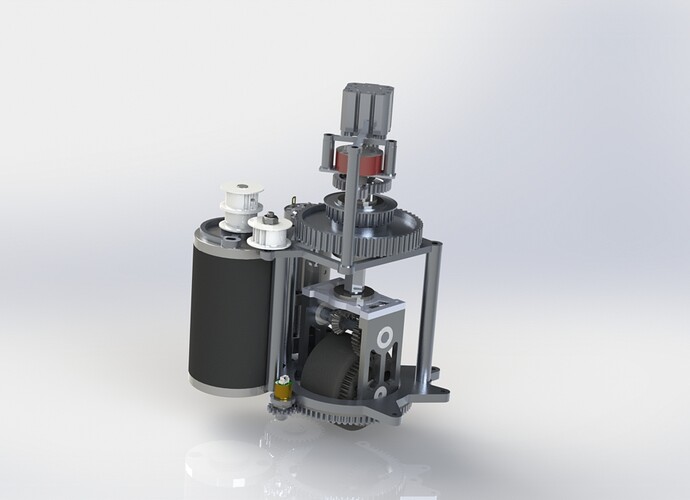 A swerve drive based off of this one by Bryce2471:
http://www.chiefdelphi.com/media/photos/40949
?
It is a shifting one-cim swerve drive with speeds of 16.9fps and 9.05fps with losses, or 20.9fps and 11.2 fps without losses. It's better suited to a cim and minicim combo swerve, which is what I'll add for the next version.
Currently there are no fillets in the CAD, as each team may have different manufacturing resources. Waterjetting is good, but there are a couple of counterbores that need to be manually machined in or CNC'd.
As shown in the picture, this weighs 6.16lbs. That's the cim, RS-550 motor, banebots 1:26 gearbox, and all the gears and the module. Most evertying is 6061 aluminum except for the gears in the module itself, which are 1045 steel from QTC Gears. A chassis made with this, minus fasteners, weighs about 29.7lbs. With fasteners, maybe another 1-2lbs.
One thing I seriously dislike about this module is the huge space between the top plate where the cim attaches and the main turning part. However, this allows for later changes to make the wheel up to 3.5" in diameter. Currently it is a 2.5" colson.
I will release the CAD files as soon as I add fasteners to everything. The next version will include an extra cim slot, and the version after that will be manually machinable (although weight will increase significantly).
Criticism is more than welcome.