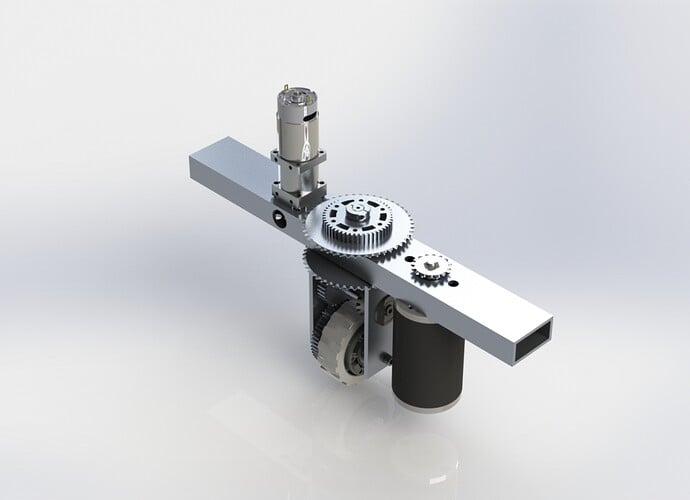 Presenting GBX-116, an easy-to-create swerve drive for teams without mills or lathes.
Total weight is 6.97lbs as shown, but it needs a few 8-32 button head screws from Vex. A chassis with this as shown weighs approximately 34lbs.
Geared for 16.5fps. One cim per module, but can easily be upped to two.
The only "machined" parts on this are the top bar, which is made from 2x1, and the caster box, which is made from a piece of 3x5 or 3x6. It can be made from bent sheet metal as well. To make these pieces, you need a good eye and a ruler graduated in 0.01" increments, or just a drill press and x-y table. Of course this can be made with a mill if you want.
There are two 3/8" shafts which need to be cut within 1/16" or so, and a vex hollow shaft to act as a dead axle which is about the same. Everything else is COTS.
The CAD is missing screws, tensioners, and encoders currently, but there are many places to mount encoders and tensioners. Once those are all added, I'll release the CAD and toleranced drawings for this.
I would make a shifting version of this, but those designs require tolerances good enough for gear mating, and I want to avoid gears as much as possible. There is already a pair of gears in this module due to the lack of commercially available 3/8" hex bore sprockets. Hopefully Vex or Anymark will stock those eventually.
Input is more than welcome, as always. Experience with drill press/ x-y tables is also much appreciated, as I'm not sure what kind of tolerances you can get with those.