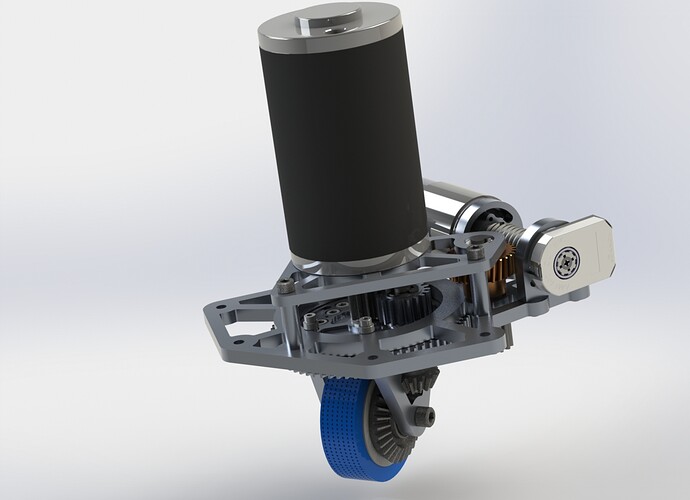 Another bevel-beside wheel swerve drive. This one uses a delrin groove ball bearing. GBX-134 (not posted on CD but available in our offseason CAD release) weighed under 5.6lbs, but used an 0.3lb ball bearing and was optimized for manual machining and waterjetting (both of which we can do). GBX-136 has been optimized for waterjet and CNC work, but can be made with only a CNC mill and manual lathe.
It uses a 30:2 (15:1) 2-lead worm gear reduction and a 72:14 spur gear reduction to turn at just over 200rpm, but the 14t gear can be reduced to turn it slower. I felt safe with that higher speed as the worm gear cannot be backdriven in this setup. I calculated an efficiency of 86% for the worm and 98% for the spur for a total of 84% efficiency. This saved some weight as well.
The weight is my best yet at a hair under 5.2lbs. It is designed to be mounted to the top of a 2x1 or 1x1, but can also be mounted below. To allow both styles it has only a single plate for mounting. A 28"x28" chassis with this swerve drive mounted on 1/16" wall 2x1 weighs under 28lbs with a 6mm plywood bellypan.
The main thing I'm worried about is the worm gear failing under shock loads, but I can always replace it with a 4-lead worm to allow backdriving.