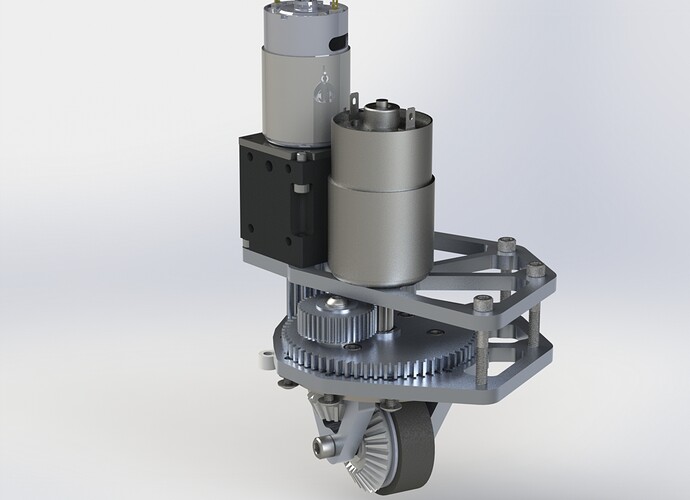 GBX-139 is my attempt at a cheap swerve drive while keeping the low-weight package. It is made for a 70-80lb demo chassis, although it is possible to convert it to a competition design by swapping bevel gears and motors.
Geared for 17.6fps with a 2.06" wheel, rotation/swivel speed is about 330rpm. Switching to a CIM or miniCIM can let your drive speed be far lower. The BB RS-775 24v also seems to have a free speed of only 12k rpm, so running it at 12v would be only 6k rpm, resulting in a much lower rotation speed.
This uses delrin/acetal bevel gears from SDP-SI that are 1.5 Module (~16 pitch) instead of costly steel ones. The large gears and plates are all meant to be 3d printed, however waterjetting and CNC with a 1/4" endmill both work as well.
Link to the cost sheet:

It does take the liberty of assuming you own versaplanetaries and 10:1 ratios. It also uses my AS5047P magnetic encoder to save money; the chips can be ordered as free samples from AMS or for $8 each in bulk. This results in a cost of about $90 per module, slightly more if you buy the encoder chips.
There are no drive encoders, although a 775 encoder can be added on the back if needed.
As always, CAD is available in the 2015 offseason release in the GBX-139 folder: https://workbench.grabcad.com/workbench/projects/gcBvYbFAI7TQYHiKMOq7jiSQVQxuTYPyTAXwhy5IZUFIGK#/space/gcvLTQUiZ-c9-szjJsPH3WvpxdeKOB9B1Z2b-tQWAq3gUh/link/430734
It's well past 2015, but I still use the folder for ease of use.
I will upload a pack and go and step file later.
As a side note, this is the only swerve drive I would consider manufacturing right now. I came to the realization that most of my previous swerves would have serious issues taking side loads, or are too expensive.