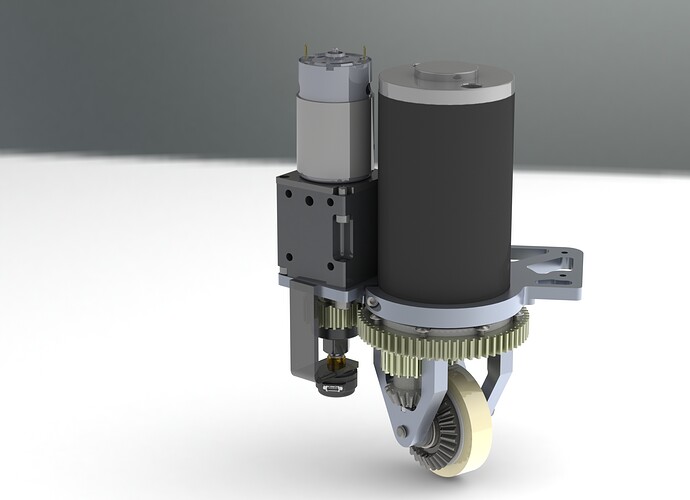 GBX-150 is my 50th design for a swerve drive. Few of my swerve drives make it past the sketch phase, but there are 50 unique ideas for swerve drives in corners of my computer.
Features:
-14 to 20fps free speeds determined by selection of pinion and mating gear (18 or 20 tooth)
-149rpm module rotation speed using cycloidal VP stage
-2.2" tan-nitrile treaded wheel
-5.1lbs (I tried so hard to get it sub-5lb)
-Ultra-compact (probably my most compact ever)
-Mounts to face of CIM, and CIM is mounted via a large clamping arm with a 6-32 screw (although 8-32 and/or set screws are doable)
-S4 for turning encoder, with no speed encoder. Hall effect zeroing sensor can be added if desired
-5 CNC'd plates, 2 turned shafts, and a VP shaft drilled out for 1/4" S4 encoder. Everything else is COTS.
-Versaframe-compatible
I'm pretty proud of this swerve drive, but feel free to kick me down a notch.

I'm sure there are aspects of the design I've overlooked (the least of which being the use of a clamp on the CIM to hold the module to the chassis). That being said, the main weak point of this design is the clamping attachment, and the use of the black paint on the CIM as a shoulder coupled with possible extra set screws should make it able to resist whatever the game throws at it.