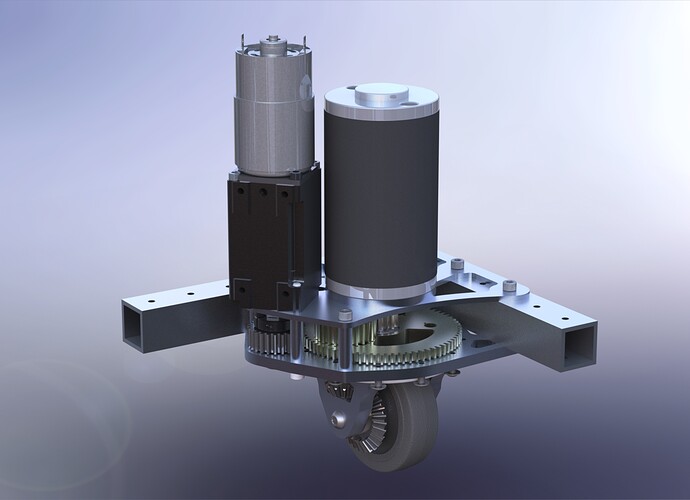 GBX-162 is a realistic swerve drive. In the past, many of my designs have fallen short in one way or another or had failure points, but this is pretty much how I would make a swerve drive if I had to do one in-season. It weighs 6.4lbs with a CIM or 5.8lbs with a MiniCIM (without the versaframe shown in the photo).
Geared for 17.4fps free speed, it's fairly fast without sacrificing acceleration. To change the ratio to something slower I would need to switch to a larger bearing to suit a larger gear, but it wouldn't be a terrible change to make.
Of course 1072 will never use this design unless the students come up with something on their own!

But I figured it would be a good idea to make a swerve drive that I'd feel confident in fielding in CADathons at least.
CAD files are located here:
https://workbench.grabcad.com/workbench/projects/gc8mrFALmKICo4R9VHLXRcuk-mX7BOz2JCA6ISgFtmNUQy#/space/gcSTdRRbtyPVJLJ_9o0kq0T2DyGoJ3GMIQSQ0z1UVX5D8O
Look in GBX-162 -> Release for Pack&Go and STEP files.