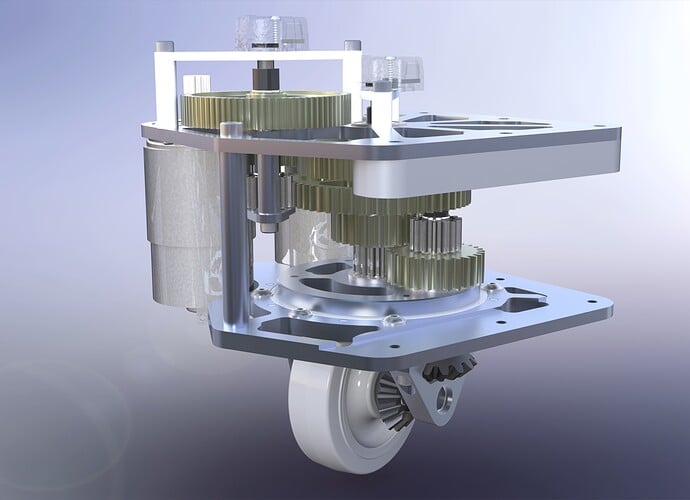 Presenting GBX-165, an epicyclic differential swerve.
The reason I say "epicyclic" instead of "planetary" is because although this operates using the epicyclic gearing principle, it doesn't use a ring gear like a regular planetary gearbox does. I uploaded another picture showing the differential assembly. Here's a GIF of it in motion:
https://i.imgur.com/5zoQXqX.gifv
The idea comes from this site:
https://www.lugnet.com/~3813/diffs
The main thing I dislike about this module is that I have to use the sum/difference of two Mag Encoders to get azimuth and distance. Adding an absolute encoder on rotation would be somewhat heavy and difficult, but I would probably add that if this were for in-season use. If I ever build this module, controllability would be high on the list of testing priorities. A custom PCB to get sum and difference of encoder ticks may even be useful.
Weighs 4.6 pounds, which is more than I would like given that I'm basically cheating by using 775s. Of course, this is still super low weight for a swerve drive with 8 775s of power. I think a more talented designer can get it to 4lbs, although going any lower would be a challenge.
Free speed is 18.3fps with the 3" wheel pictured, and the rotation free speed is 468rpm.
Module cost is around $340 with sensors and all hardware, although not including motor controllers.
CAD is available here: https://workbench.grabcad.com/workbench/projects/gcxnb8i8brarEzDXAL7In8SeD-xeuWmarI73f5s6ioPdgL#/space/gc0KZjGz-ib-PcF-_CdNI2gYF1GGPRtLo8SoEKAOByhg3y
Please keep all discussion in this picture's thread.