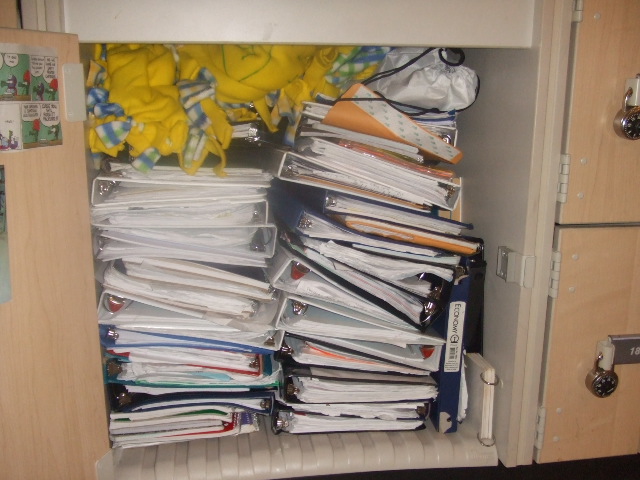 Since my WAI appears to be of interest, here are more pictures of team 1189 (The Gearheads)'s community service project.
The full backstory can be found here: http://www.chiefdelphi.com/forums/showpost.php?p=862964&postcount=13
This is the inside of my band locker after the senior locker clean out. We underclassmen had a half day due to senior finals, so their clean out occurred as soon as they were done with their last final. I noticed a few binders in the trash on my way into math, and decided to go around after class and see what I could get. My friend and I ended up walking into Italian, or next class, with stacks of binders up to our noses, and full backpacks. Our teacher excused us to put the supplies in our lockers, and on the way back we raided more trash cans, taking two trips to get the job done. This is the result, plus another 15 or so binders located my friend's locker.
We were very proud of our efforts, to say the least.
(edit: More info can be found at http://gpgearheads.org/community-service-0 and http://www.gpgearheads.org/library/articles/team/gearheads-going-green-and-giving)