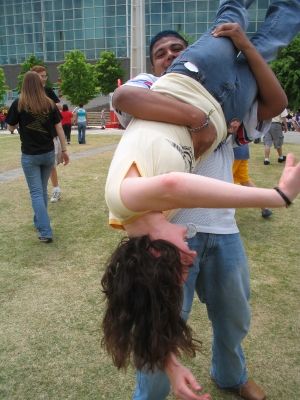 After the webhug, Genia wanted someone to carry her upside down. Arefin obliged. Hilarity ensued.
doe anyone worry about the health of her? i mean shes also been thrown around by billfred… Here
But still
hilarious

Y'all were so mean to that poor lil' girl.
Give her back her shoe!
Hey, you reminded me about the game of catch, Ed…

And it could always be worse…if/when I think of how, I'll post again.
And BTW why do people keep saying Genia is so small? She seemed pretty mid sized as girls go. Now Lisa Perez is really tiny. Big Mike lifted her up like a loaf of bread.
Genia isn't tiny! Genia hangs around with tall people.

I dunno, I got some comments on the shoes. 5'1" isn't quite midget. I also refuse to claim ownership over every thread started regarding my height! Make fun of someone else for a change

I have to say, it was very fun throwing her shoe around. But I started to feel bad after I almost hit someone on a segway with the shoe (i'm really bad at sports), so I gave Genia her shoe back.
Yah, you guys really were pretty funny with that. Dori has a great profile of me shoeifying on my profile. It rocks.
I agree, she isn't that short at all, even when she takes her shoes off.

LOL I'd say you're wrong in that I"m not that short, though there's shorter, I've got this beauitulf thing called posture.
The main comment I got this weekend was:
"Genia, you're really short, but I can't tell because you're wayyy too hyper and you jump up and down around a lot, or you're in a wheelchair so I can't tell"
i've said it before and i'll say it again, genia is gigantic and makes me feel tiny.
Loaf of bread… Haha

It's been a while since I played a good game of keep away. In elementary I used to be the short one. Wait, Genia is in high school? oh…
Smally by comparison. But if you keep wearing the platform shoes and hanging around with Courtny, well then, you can be tall then.