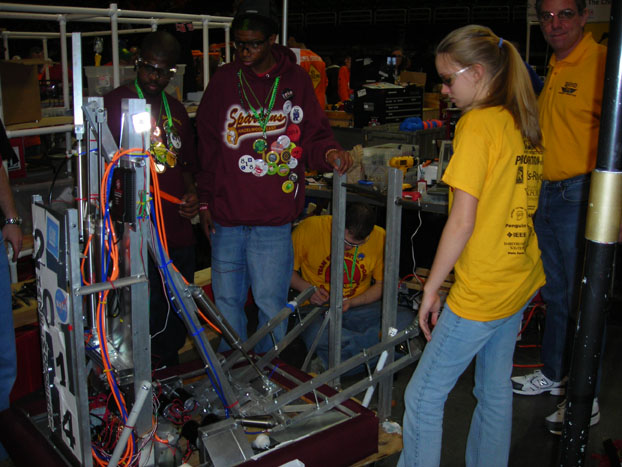 Goats helping to fix 2014's grabber.
Our lead mechanical mentor Tim loves to help fix robots. If you are at Boilermaker and need anything he and the pit goats would love to help.
Tim also loves to give away all our spare parts.
as far as helping out in the pits goes, warning to anybody who decides to bring a bandsaw and drill press, you will be asked to share…alot lol
i think our bandsaw helped take a couple pounds out of 503's bot were happy to help, we spent last summer organizing our pit for effiency and size.
This year we got smushed we went around and checked and everyones pit around us was 10 ft by 10ft and ours was 8ft 4 inches it was cozy yet we were still a popular pit.
it was also fun to hear an annoucement that the team next to us needed staplegun staples right when i'm standing next to our toolchest and hand them to the team literally within 5 seconds of the announcement i think thats a record
at midwest i saw teams helping out others all over the place, especially wildstang with the massive amount of manpower they have.