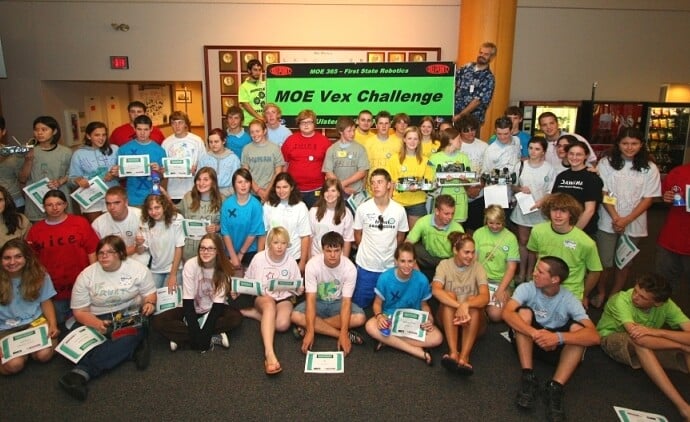 Group shot of the Ulster Project American and Irish teens, MOE and Dawgma students, and assorted mentors
Our third Annual "Competition in a Day" with the Ulster Project Delaware went extremely well. Eighteen Northern Irish teenagers from Portadown, Northern Ireland paired with US host teenagers and mentors from Dawgma 1712 and MOE 365, to compete in a simple FIRST-type game using Vex bots. We even had Vex uber-mentors Joe Perrotto and Rich Kressly on hand to guide the day.
Thanks to all who participated, especially those Dawgma and MOE team members!
If any FIRST team has an interest in conducting a project like this with a local Ulster Project (there are over 25 of them all over the US), check out the following websites:
http://www.fsrobotics.org/moe365//ulster2006.php
Team 931 sponsored the Ulster project at the St. Louis Science Center. They invited some students from 1985 to help.
That's terrific! Great photo! I would love to hear more about how this event went. How many Northern Irish students participated?
Awesome job!
12 students from Northern Ireland and their 12 host students from the St. Louis area participated. Six team members from 931 and six from 1985 served as mentors, so that each of the one-day robotics teams seen in the photo had two veteran FIRST students to help them.
Charlie Blair (a 931 mentor) led the project with assistance from several other FIRST team mentors, teachers, and staff of the St. Louis Science Center – which hosted the event on their Center Stage. The game was designed by Charlie and a small committee of 931 students, with minor contributions from me. I'll ask Charlie to post the game rules to CD Media.
This was our second year hosting this event. The Ulster Project in St. Louis approached us early in 2007 to ask if we could do it for them, after they had heard about a similar event that 365 hosts for the Ulster Project in Delaware. Thanks to MOE for showing us that it can be done. We used their format, with some minor changes to suit our resources and venue.
The experience was fantastic, for the Ulster students and for us. We plan to do something similar again next year.
Richard,
I'm bumping and old thread here wondering if this project continues for your group? 1712 had the privilege of once again working with 365 at Ulster DE last Friday and it was a great success. We've tweaked our game, the rules, and started all teams out with a moving drive base in the VEX Tumbler, allowing the teams to focus on manipulator design. John Larock and the MOE folks always do a great job here and I'm simply thrilled to be able to help.
If this is a continued success in St Louis too, I'm wondering if this is the kind of thing we'd want to share best practices on and see if other Ulster sites could benefit?
Looks the many of the other sites might have a friendly team or two nearby…
http://www.ulsterproject.org/locations.htm