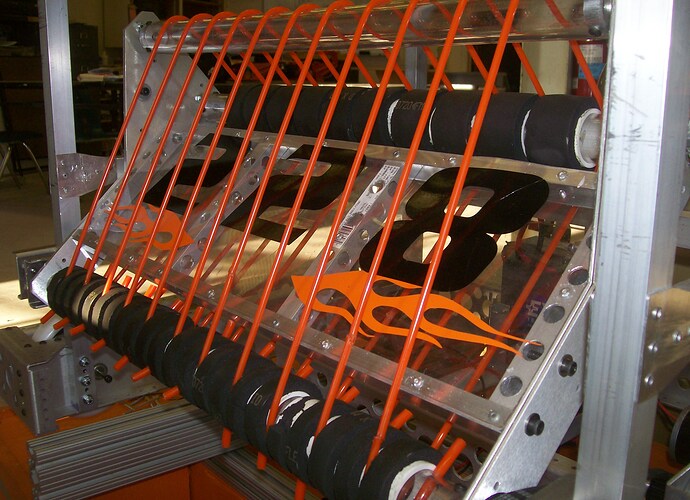 Here's our first teaser picture, from our practice robot.
Competition robot parts should be back from powder-coating soon.
what material is that black foam? thick weatherstripping? ive been searching for something exactly like that for a while now
McMaster #4463K123
You can also just search for "foam" there to get a lot of different styles.
Hey… wait… that looks like a LEGAL bumper configuration! You can't post a photo with a legal configuration… we'd have nothing to talk about!
Looks like a nice intake, hope it inhales the balls like a teenager inhales pizza.
Jason
On a scale from 1 to nice that looks pretty flippin nice. I can't wait to see your team in Connecticut.
is that pneumatic tubing? if so how did you attach the ends?
Yes it is pneumatic tubing and the ends are probably some how melted together (correct me if I am wrong). 102 used this same design in 2006 and it worked rather well.
While I'm not on 228, I'm 99.9% sure it's orange 1/4" urethane belting from McMaster. It's pretty fantastic stuff, see this thread. In the provided link, there's an in depth welding guide (by Art from 228), but essentially you melt the ends and smoosh them together in a piece of aluminum angle. Let it cool for five (ish) minutes, and you're ready to go!
Close. The loops are 3/16" orange urethane belting (McMaster-brand polycord), and the teeth on the bottom roller are 1/4".
The heat welded joints in the polycord are holding up just fine so far, although our full speed testing (2200 rpm) has been limited.
reminds me of an earlier winning bot.