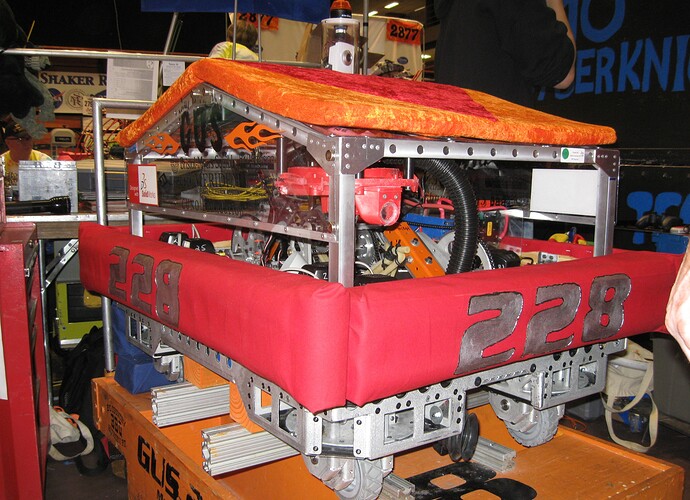 It was a long journey, but here's a photo of GUS Team 228's 2010 Robot: GUS XII!
Early on, our practice robot (before WPI) and competition robot (at WPI) were beset with a number of issues with defective COTS items. At the WPI Regional, we only had two qualification matches out of the twelve where no problems were present - the first match and the last match.
After the first match, we began to have issues with our swerve "GUSwerve" drivetrain, a field-centric, independent swerve drive. Originally we thought the Window motors for steering were the only issue, but we soon found that a defective batch of bearings were literally imploding. We had one fail on our practice robot prior to the regional, and two fail only a few matches into the WPI Regional, with the other two pods on the swerve drive only another match or two away from failing. In all three failures, one of the balls exploded and the resulting shrapnel tore the rest of the bearing apart. No bearing = no driving.
Originally we were going to order new bearings and replace them at CT Regional, but we knew we couldn't just give up like that. So we started disassembling our swerve drive as quickly as possible with the aim to be back in action before our last qualification match on Saturday. At the close of the pits on Friday, our swerve drive was in a hundred different pieces.
On Saturday morning, with our hex cluster shafts were turned into round and keyed for 3/32", the CIM pinions were bored out to 3/8" and broached for 3/32", and new bearings found, we began the race against the clock to reassemble an entire swerve drive train in only an hour and a half. And we were successful.
At this same time, our lead programming mentor noticed that the default position of the jumpers on the Jaguars were set to Brake and not Coast. Upon changing this, we did not have ANY problems with the Denso motors overheating for the rest of the competition.
So after tearing apart our entire drive train, making emergency modifications, and putting everything back together, we had failed to field a full-working robot for 10 of the qualification matches (or even any part of a robot for about a half dozen matches). Thus, we ended up ranked 27th out of 29.
But luckily, the scouters on 230 (who were also neighbors in the pits), knew about our rapid redesign and rebuild of our swerve, and knew it was working, and chose us into an alliance with them and 20. And now with a fully-functioning GUSwerve, our drivers began to use the field-centric controls to their fullest extent to play some excellent defense in the middle and far zones throughout the eliminations. Through hardcore defense, many bump crossings, and several near flips, GUSwerve performed flawlessly.
And while other alliances were struggling with five and six quarter-finals matches, the 230-20-228 alliance went all the way through the eliminations 6-0. It was quite a comeback for GUS, starting Saturday with a drive train in a hundred pieces and ending with a Champion banner.
We'll be at the CT Regional, and after a double Champion/EI win at WPI will most-likely be in Atlanta (pending fundraising).