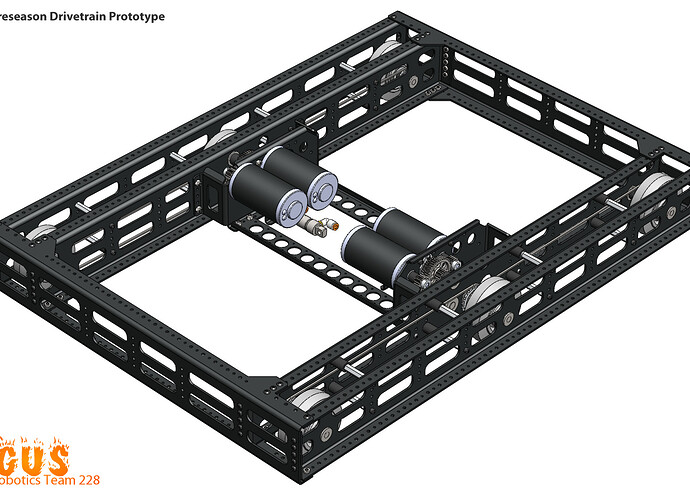 As one of our 2011 preseason activities, we updated an older prototype 6WD sheet metal chassis we had designed
back in 2008
, since both our
2009
and
2010 robots
were 4WD.
The main chassis rails are 1/8" 5052 powder-coated aluminum, with the middle lateral supports being 3/32" 5052. Unlike the past two years where our sheet metal parts were mostly limited to our drive train, we plan on using a lot more sheet metal parts (particularly 3/32" and 1/16") on our superstructure and manipulators for the 2011 season.
The pneumatic shifting gearboxes use a variety of gears a la carte from AndyMark, and are designed for a low-gear speed of 5 ft/sec and a high-gear speed of 13 ft/sec. The center wheel is direct-driven, and the outer wheels are powered via 25p roller chain. The wheels are 4" x 1.5" Colson wheels with knurled 6061 aluminum inserts pressed into them.
With everything shown (including all hardware and simulated roller chain set to the correct weight), SolidWorks says this drivetrain weighs in at 36.76 lbs.