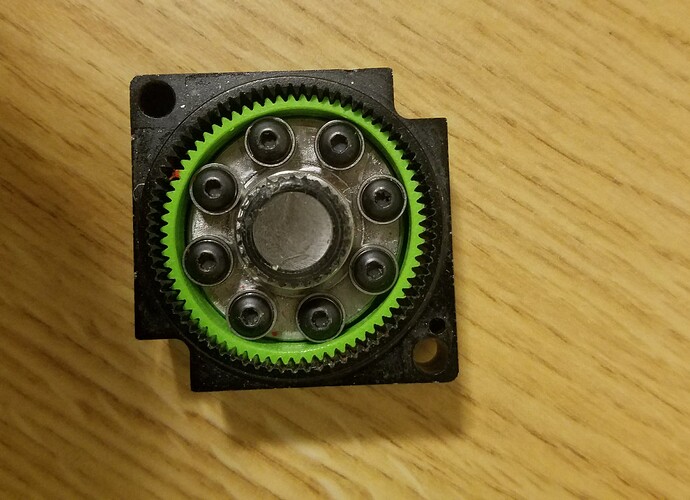 This is HGX-102, a harmonic drive prototype I've been working on for a few weeks. I printed a new gear with slightly different tolerances every few days until I got the fit I wanted. Printing was done with an Ultimaker 3 Extended; I would not recommend printing this on any lower-end printers.
The hub with the bearings is a machined part I got from Plethora Machining. It's possible to 3D print the hub, but the bearings and screws need to be bought.
The final gear ratio is 36:1, or (#of teeth in ring gear)/2; this is true for most (or all, I believe) harmonic/strain wave drive systems.
I was hoping to get good anti-backdrive results with this, preferably better than the cycloidal stage, but ultimately even the 3D printed version is very easy to backdrive. On one hand, that means it could have good efficiency, but on the other hand, it also means that the extra manufacturing costs and still-worse-than-planetary efficiency will be a hard tradeoff to make for just a bit more gear ratio.
I think I'll lay harmonic and cycloidal drives to rest for now. They've had a good run, but the only place where I would seriously want to use them is a larger version on an arm or something. The quest for a non-backdriveable non-ratchet VP stage continues.
Link to photo album and a short backdrive test
Link to CAD. Look in the HGX-102 folder. The Zip folder is a PackAndGo and has the printable parts and a STEP file as well of the whole assembly.