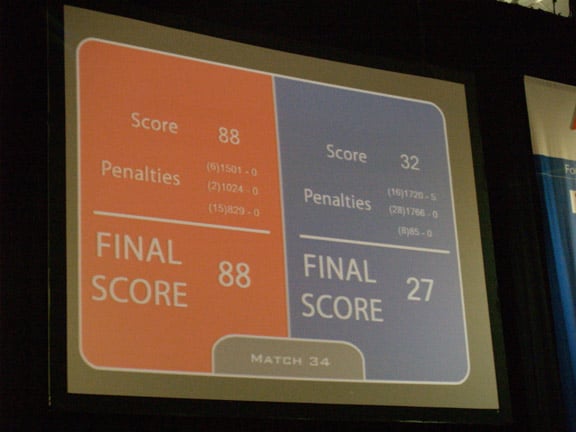 our high score for the weekend
Yeah that was a sweet match hope you guys good luck at Michigan!!!



we had a high score of 52 points before the bonus in auto. mode in Annapolis. unfortunately, we had to restart the match.

Hmm… that looks like our last match at Buckeye last year when the opponent got all eight rows and beat us like 117 - 14 or something like that.
It was so sad, but I'm still proud of the fact that we were slaughtered by 1/3 the National Champions, HOT.
at the Chesapeak Regional our team (Rappahannock Robotics, Kilroy) w/ Buzz Robotics and the NASA Knights got a high score of 104. The highest at the regional (maybe out of all of the regionals, i don't know). and the nasa knights' robot had technical difficulties too. think if it hadn't.