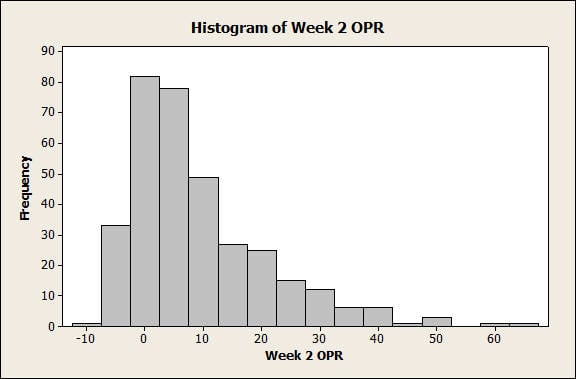 [EDIT]Please scroll down to see the updated histogram, this one is missing the Michigan events and NYC![/EDIT]
Above is a histogram (bar graph) of OPR at the end of qualifying rounds on Saturday of week 2 in 2011. OPR is a statistic based on which teams a team plays with, and their cumulative alliance scores. Here is the mathematical description. It is a rough estimate of the number of points a given robot is "worth" per match. Negative scores may be the result of frequent penalties, or the algorithm "overcompensating" if a good team has a bad match. It is far from a perfect system. The average OPR during week 2 was 9.16 points, which is slightly higher than week 1's 8.77 points.
I used Bongle's excellent OPRnet program.
Cumulative Distribution for Week 1
Cumulative Distribution for Week 2