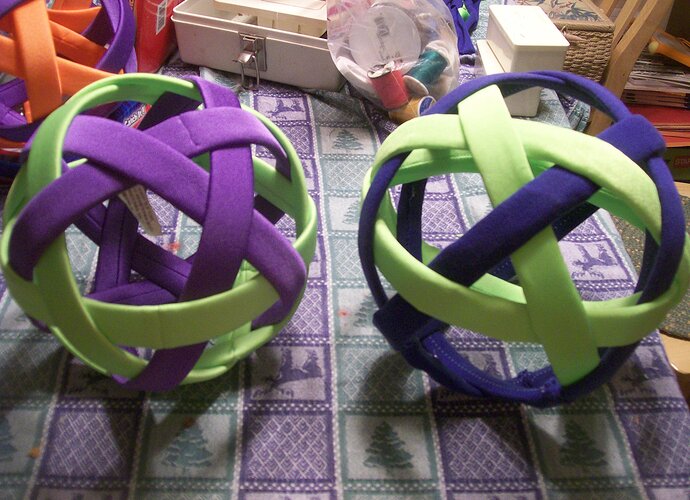 After searching through six Connecticut Wal-Mart stores and only finding four good Orbit Balls (we left one broken, unpackaged one behind at Wallingford) and the "calling card" (another broken, unpackaged one we found and left at Newington), we decided that enough is enough. It was time to use some Yankee ingenuity to solve this dilemma.
After slicing strips of 0.062" polycarbonate on the table saw, finding green and blue spandex (curse this! the only two colors which they had in stock were the only ones which don't end up together!) and thin foam at Jo-Ann Fabrics, between my father, myself, and my sister we managed to make the first prototype homemade Orbit Ball this evening in about two hours.
It's slightly larger than the regular ones (2020 hindsight: we should have measured the diameter before we pop-riveted them together), but functions almost identically to the four official ones we purchased. It's slightly more flexible, however we think some of this will be eliminated when we make another one the correct size tomorrow.
We are currently working on streamlining the process (we're aiming to be able to make 7-10 in a single evening), writing a white paper, and filming a corresponding YouTube How To video to help teams out. The final price right now cost us about $10 worth of materials for each ball, which is what we would have paid at Wal-Mart anyway had they been in stock.