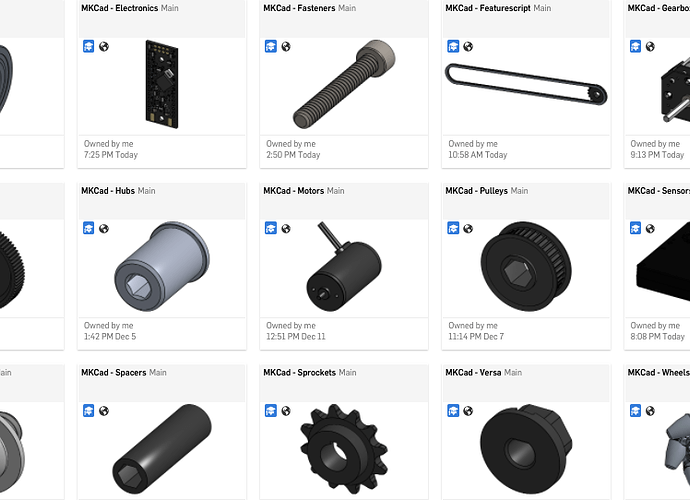 On behalf of FRC Team 1836: The Milkenknights, I'm proud to officially release MKCad!
MKCad is a FRC COTS parts library native to Onshape! No longer will teams that use Onshape for FRC have to download parts, deal with wonky imports, set their own colors and materials, and go through a lot of hoops just to put a few COTS parts into their assemblies
How do I use MKCad?
In any Onshape assembly, hit Insert (like you would for any other part) then go to Other Documents and Public. In the search bar, type in "MKCad - " and then the thing you want to import or scroll to the type of part you want.
What is included in MKCad?
MKCad is divided up into different documents for ease of import. Across all of these documents, MKCad includes bearings, electronics components (simplified and real), Fasteners, COTS Gearboxes, Gears, Hubs, Motors, Pulleys, Sensors, Snap Rings, Shaft Collars, Standard Vex Spacers, Sprockets, TONS of Versa products, and Wheels. MKCad includes every Vexpro, WCP, Andymark, and Mcmaster part I think my team (and others I work closely with) would ever use on a competing robot.
Why should I use MKCad over other options?
MKCad is native to Onshape, meaning that part weights, names, colors, and everything else is conveniently set up for use in Onshape assemblies. Motors, electronics, and other critical/heavy parts have weights set from the supplier. Almost every part in MKCad also includes the part number for easy ordering if you use OpenBom or have very patient mentors. From those that have tested it within and outside of my team, I've heard that MKCad helps speed up the Onshape assembly process up to two or three times as fast! My teammates and I have been working hard to make this parts library as convenient as possible, and I hope you find it as quick and easy as we do!
Is Marcus Bernstein really posting on CD without a new featurescript to release?!
Nope! MKCad also includes featurescripts! For now, I have Chain Path Generator, Shaft Generator, Hole Patterned Tube Generator, and Versaplanetary Generator. I will likely be adding more before season, but these are all up and working so feel free to use them as much as you'd like!
There is a COTS part I want MKCad to add, what should I do?
Now that I'm in college and on break from school, I have plenty of free time! Feel free to reach out to me or reply to this thread and I will make sure my CAD team gets it in.
If you find any bugs, have parts you want me to add, plan on using MKCad on your team, or anything else, don't hesitate to post on this thread. As always, your questions and feedback are appreciated!
The Milkenknights hope you like MKCad!