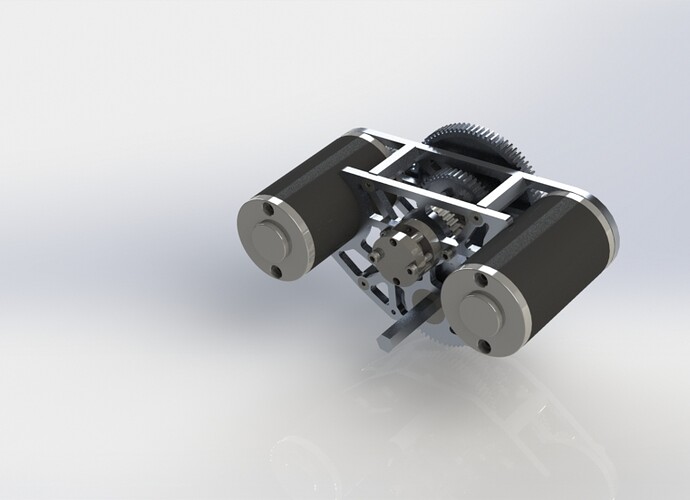 So after some feedback, I designed a new gearbox, and its intent was to HOPEFULLY fix the problems from the first one.
Unlike the first design, which had screws, this design has shoulder bolts through idler gears, which are 20T (CIM gears are 12T). Also, bearings were added into the idler gears. For a gear "shaft".
As many of you might have noticed, the shifting occurs on the upper shaft. This was done by one of the mechanical officers on the team, and I decided to take a stab at it.
The reason for shifting on the upper shaft was due to andymark's 28T dog gear, and I found this perfect, especially for low gear. But this would require upper shifting.
The main issue with this was mounting the piston, and the shifting mechanism itself. For the piston, it is mounted on a 1/4" aluminum plate so it doesn't interfere with the bearings on the gearbox, and for the shifting mechanism, I was concerned that off-the-shelf shifters might extend outside the frame perimeter - a big issue, especially with the design (This is true for Vex, but I'm not sure about Andymark).
So I decided to make my own shifter, which is more compact, for it was designed to fit inside the upper shaft.
Problems I have with the gearbox is weight, and I'm going to blame it on the 84T gear in the first stage. This gear is pocketed, but I'm still going over my sweet range, which is around 7-8 lbs. Also, I'm a bit concerned about the design of the shifter itself (if anyone can take a look at that, that will be great). In addition, I didn't bother to change the material to delrin or polycarbonate. I might as well accept this weight, for as someone said on the discussion thread for the first version, there will most likely be other things on the robot that can use a weight reduction.
Specs:
Weight: 8.37lbs
Low gear: 6.49fps
High gear: 16.68fps
NOTE: These values were calculated, given the drivetrain wheels are 4.2in and have a coefficient of 1.3
And as always, message me for the STEP file if you want to take a look at it (at some point, I'm going to make a public GrabCAD folder for easier access).