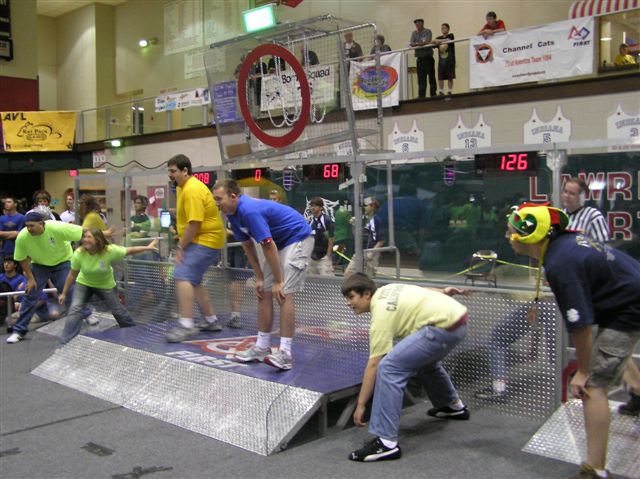 aka Kelly's Heroes
GO TRAV! YOU DA MAN!

We Kicked total East butt.
West Coast of Lake Michigan, maybe.

When a guy living in extreme Eastern Ohio is considered part of the West for IRI dodgeball purposes, you know you need more true West Coast teams to register for the event!
We try, but I think they are afraid of the competition …

(let the flames begin)
This team seems awfully Midwest-ey to me…
Maybe we can get a caravan of buses to head down there next year?
My Dad and I were discussing this today after hearing about yet another great IRI that we didn't get to see. It's kind of a tradeoff between a $400 plane ticket for each person or a 2+ day drive.
sigh maybe next year…
well it just sounds to me that we need some real west (aka west coasters)
if i had the cash for both a trip to iri and my GF's i def would have made the trek but i have priorities
That's what I said, as they made me go out there and play.
Well, you can't spell midwest without west, can 'ya?

(As someone who's never spent more than a week in a state not touching the Atlantic Ocean, anything much past Georgia qualifies to me as "out that way" when it comes to eastness or westness.)
Several West Coast teams have attended IRI. I don't know of a single team from east of the Rockies that has attended ANY West Coast off-season.
So who is afraid of who?
I'm willing to be corrected on that if I'm wrong … KenL or BillG did I miss anybody? I know we havn't had any foreigners down here.
BTW the Fall Classic will be held at Grenada HS (Home of the RoboDox) in Los Angeles on October 8th, the Cal Games are about two weeks later in San Jose, in case anybody is interested. But I don't expect anybody east of Baker, Nev to have the guts to show up.
We were signed up for Battlecry last year, but we would have had to take a redeye on the night of graduation to get there…seeing as our drive team was graduating it just wasn't feasible
Those competitions are awfully right as school is starting. It is much easier for college and high school kids to travel far away during the summer, when they don't need to worry so much about missing classes.
I would love to come out there for an off season event, but when funds are tight and it is a long long drive I don't see it happening!
Oh gosh… the dodgeball tournament… we had one of the pits that were right next to the field and had at least 4 balls come in our pit… not to mention the one that hit me in the back of the head and landed on my laptop… :yikes:
Maybe this year we'll play horseshoes with the innertubes? or…
maybe play a whole round of rack n roll with people for robots (blindfolded of course

) and have the operators yell instructions to them… well maybe not. autonomous period would be eh… interesting… :o
-q
great idea. wait, wouldn't spider legs be smacking people in head? hey, like i said, great idea.

Wow. Watching a bunch of people running around blindfolded with tubes, trying to place them on the rack would be hilarious. I'd love to see it and participate.
Helmets and Safety Glasses, my friend.
Autonomous would be interesing? The endgame would be what's the most interesting. Imagine "robots" trying to stack on top of other "robots"… blindfolded.

"Stack 'em like Legos!" - Adam Miller, 648 Alumni
Fun times trying to pack 25 people into an elevator.