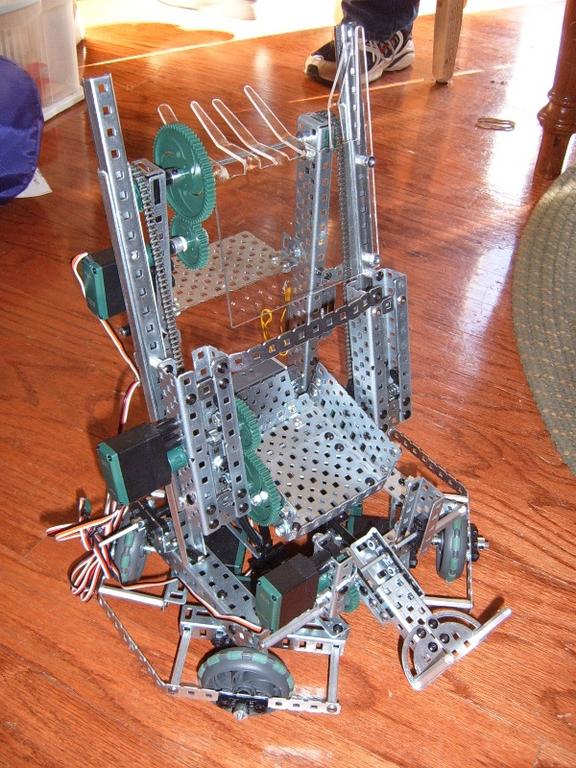 I really really love to try new ideas, especially with Vex. So here's my second Vex Robot - "Holly"-nomic Drive. Holly was built for WPI's Savage Soccer competition (Linkage:
http://users.wpi.edu/~savage/
), and it was designed to pick up two pool balls and up to four penny rolls to dump them into the pendulum. Unfortunately, between SAT tests, a team fundraising drive, and a local "Christmas in the Village" celebration, we were unable to have enough people there to actually compete.

But I still finished the robot to a beta stage.
Here's how it works: The left joystick controls the orthogonal and diagonal movements, while the horizontal axis of the right joystick controls the rotation, giving full holonomic drive out of this. (Which works very well too.) The robot drives very well on hardwood flooring and linoleum and pretty good on carpet and the soft tiles of the 2006 FVC field. Despite being a holonomic drive, Holly also drives really well on sloped surfaces as well, including the ramps of the 2006 FVC field.
The front flipper is used to get the pool balls into the tray in the robot. This tray is attached to an elevator, which lifts the pool balls up. The tray is powered to dump in one direction or the other, allowing me to dump out the pool balls into the pendulum. The Lexan piece on the top is used to knock the penny rolls off the tower and into the tray of the robot.
Besides the full holonomic behavior, I also had to deal with a lack of enough controls on a single transmitter to drive every function on the robot. So I developed a "drive mode" and "manipulator mode". In "drive mode", the joysticks control the holonomic behavior of the robot, with the right rear push buttons controlling the front ball flipper. But by pushing either of the rear left buttons, the joysticks would cease to control the drive motors and would enter "manipulator mode". This would control the elevator and the tray rotation, as well as the flipper. When the rear left button was released, the controller would return to "drive mode" again. That way, I was able to incorporate the functionality of two transmitters into one. As usual with all my Vex robots, this was entirely programmed in EasyC 2.0.
BTW, my Triple Play bot has NOT cannibalized or taken apart!

(It took a $229 dollar order from VexLabs and about $120 dollars worth of additional parts from RadioShack to avoid having to take apart the Triple Play robot.) The Triple Play robot is still in one piece enjoying retirement from its 1,200 mile tour. The only thing that it is missing is the controller and the radio receiver, which are on Holly.