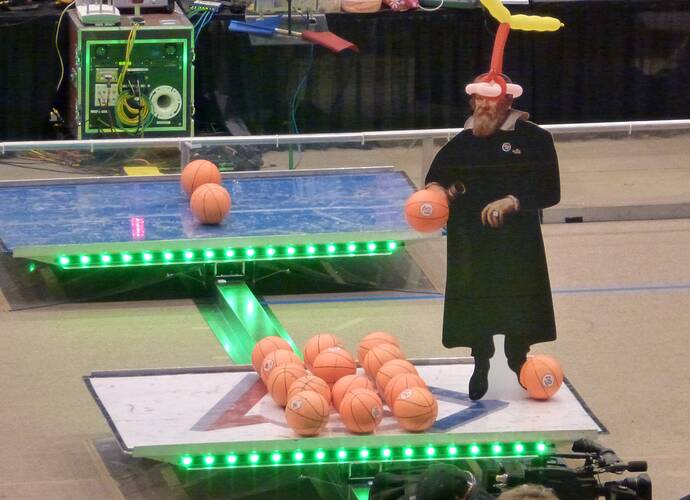 Hey Jess, was this your
mystery package
?
Yes, that was what was in the mystery package. He's currently in the Volunteer crates and when he returns to Manchester he'll permanently live in the volunteer department.
Best 50 bucks I ever spent.
Watching this on the webcast from our pit was confusing- it looked like an emcee defying gravity on the bridge!
Walking through the dome in the morning, I looked and wondered who was standing on the bridge.
Nice touch, Jess.
Also spotted him on my way through. Awesome!
Well done, Jess!
Is he contemplating that the ball is round, or that the bridge is flat?
Well, if that were to happen, it would have been on Newton.
Andy B.
Okay, so where are the ones for Einstein, Curie, Archimedes, Newton, Edison, Franklin, and Da Vinci?
The Volunteer Coordinators for those fields were just not as cool as Jess! (Sorry, Walker ;))
He was kept by the judge's end of the scorers table most of the time. Every time I reffed in the station in front of there I felt like there was always somebody staring at the back of my head. It was a bit creepy.
Oh, and those balloon hats didn't get creepy at times??
Wasn't there one with big bloodshot eyeballs?
Funny story - for a few years, my family has wanted to use my grandfather's artwork over the division fields - he has done many portraits of great scientists.
I believe the only one we're missing is Archimedes.

Very true! I think we have sketches of the Archimedes proof that evolved into the FIRST logo… I'll have to check on that. Maybe next year?!
That would be very cool. Very cool indeed.
Worse comes to worse, we can always use the facebook silhouette.
Not going to lie, when he was in the question box i thought it was a real person… so cool though, i secretly want one.
More likely to be contemplating the differences among the balls as used in the elimination rounds and qualification rounds. "And yet it moves differently."