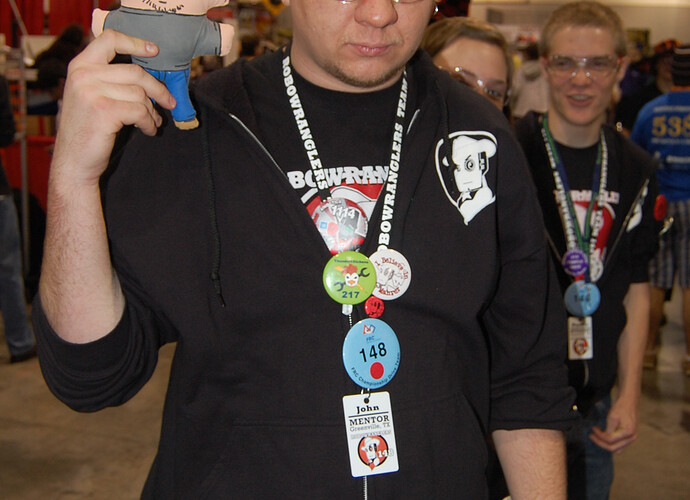 Word on the street is that the 148 girls are selling these remarkably accurate JVN replicas for $10.
Word on the street is those things are evil, and bring nothing but bad luck to the robots they touch. :rolleyes:
Word on the street is that this is a hot commodity. On Friday my drive team comes to me and says, "Kressly, we need $10 so we can get you something."
The thing is remarkably accurate and ours has a little 148 button to boot. My 6-year-old son is now in possession of it. I'll let you know if it produces nightmares and/or incredible design ideas soon.
edit: I swear I didn't know Sean was posting. However, I was not going to mention that the 1712 gremlins showed up after JVN was affixed to our robot.

I was very confused while I was parsing Newton video and saw one of these go by strapped to the side of the 148 machine.
I need to get me some of those for our FVC robots before Dallas.
On a side note, I now know why I've never seen JVN without a hat.
With the tie wrap around the neck and the wires above his head, it looks like he was hanged :eek: I'm just glad the horse got away.
Maybe we should sell these instead of HexBugs at the FLL tournament next year…
Unfortunately, it was three of our manly pit crew who hand-made and sold these.

including the pretty, pretty, princess?
Wait, I am confused. Which one is the replica?

-dave
(and, yes, I still want one - can they be obtained at the VEX Championships in two weeks?)
.
A: the one that eats less!
ok, I'm giving up my unofficial caption contest entry for this (I just know there will be one) - but I can't resist -
I've always thought JVN was a doll.
–
It would make a great stocking stuffer and could come with a tag that says: Putting the I in Inspiration: are you ready to see this face from behind the driver's station on the opposing alliance? Get busy!
Good luck with the fundraiser and the future FIRST must-have collector's piece, 148.
Is this the start of FIRST IDOL Dolls.
Whats next Dean, Woodie, Dave, Paul, Andy, Karthik etc…
Would that Karthik doll sing when you pull the string on his back?
This pretty, pretty princess was not included in the process of creating this creep Lil' Neuns.

Dave, I do believe some were left over so I'll make sure you can get one in Dallas.
Can these be used for Voodoo?
What makes you think they haven't been used for that already?

If they can, I know how to take 148 out of the picture next build season.
You don't want to take them out of the picture, you want to make them reveal their master plans and how they are doing it.